Tagging for fame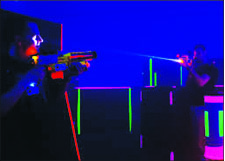 Why sleep in on Saturday when you can break the Guinness World Record for the largest game of laser tag?
That is what participants at the 5k Run and Walk for Life & Guinness World Record Laser Tag Game Fundraiser will be doing Oct. 26.
Mike Kirby, the owner of Laser Tag Source and lead pastor of Lynchburg Church of God, said he had his sights set on breaking the record, which is held by a group from
Australia.
"We wanted to team up with a non-profit while breaking the record," Kirby said. "My employees and I had a lot of different causes out on the table, but we wanted to find one that was the right fit."
By chance, Kirby ran into Blue Ridge Executive Director Lori Meetre's husband at the Wildfire Conference at Liberty University. Kirby said he decided that the Blue Ridge Pregnancy Center was the perfect fit.
Kirby said his company loved what Blue Ridge stood for and their ministry to educate women who may be faced with an unplanned pregnancy.
"As a church, we are called to be a church of action," Kirby said. "We shouldn't just picket against abortion, we should do something more."
Meetre said the response to the event has been excellent.
"I think it's great to see all these people coming out to support life," Meetre said. "All of the proceeds from the event go to make sure the center keeps its doors open."
Participants are encouraged to create groups of 10 to compete against other teams during the laser tag tournament. Each team is asked to have a minimum combined pledge total of $500. The church youth group that raises the most money will win a laser tag party. The winner of the tournament will also win a party.
"We were looking for some kind of event to go along with the walk," Meetre said. "It was a great partnership."
Meetre said she is extremely passionate about her work at Blue Ridge.
"When I was 18 years old, I had an abortion," Meetre said. "No one educated me about all my options, and I made the choice to have the abortion. Women don't realize that there is a whole other side."
Meetre explained that the center works to educate women on the emotional, physical and spiritual aspects of all their options. If a woman still makes the decision to end the pregnancy, Blue Ridge works with both men and women through post-abortion counseling.
Christina Toth, an intern at the pregnancy center, said there is more to the run than raising proceeds. It is about bringing attention to the community about what Blue Ridge does.
"Many women with crisis pregnancies do not know all of the details about the results of abortion," Toth said. "It is important to both inform them as well as give them information about other options they may not have considered."
Meetre said besides counseling, the pregnancy center also has a mobile unit which goes out into the community to give help to those who cannot make it to the center. The mobile unit has gone as far as Roanoke to help a client.
"It's great to see everyone coming out to support life," Meetre said. "I know we're going to break (the record)."
To find out more about the race and how to sign up, visit the Blue Ridge Pregnancy Center website at blueridgepc.org.