Student body meets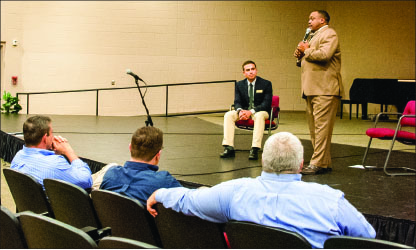 The voices of Liberty University students were heard Wednesday, Oct. 16 at the Student Body Town Hall Meeting with Dean Keith Anderson, hosted by the Dean of Students Office.
Nearly 30 students gathered in Towns Alumni Auditorium to ask questions and discuss topics relating to life at Liberty. During the meeting, policy questions were directed to Anderson as well as Student Body President Josh Warner.
Question topics ranged from entertainment policies to the future of Liberty as students approached one of three microphones at the edge of the stage.
Eli McGowan, a junior at Liberty, asked the dean about the university's policy on R-rated movies. Anderson replied by restating the existing policies listed in both the Liberty Way and the Entertainment Policies section of the On-Campus Living Guide.
The Liberty Way states, "attendance at, possession or viewing of an R-rated movie" will result in 12 points and a $50 fine. However, the Entertainment Policies section of the On-Campus Living Guide referenced by Anderson states, "Liberty University encourages all students to abstain from any form of entertainment that would compromise their testimony to the world and their relationship to God," making no specific mention of movie ratings.
At the end of the meeting, McGowan said he was dissatisfied with the answer.
"I was looking to see the worldview standard apply to R-rated movies, and he just kept coming back to how we can personally apply the worldview standard to movies below R-rated, and he said we have freedom to do that," McGowan said. "I want to see freedom to apply that (worldview standard) to R-rated movies."
However, McGowan said he appreciated Anderson for refusing to set policies based upon the secular industry's standard of appropriateness.
Senior Sean Body asked Anderson whether Liberty would end up forsaking its Christian roots like Princeton or Harvard.
Anderson noted that this was a concern for the late Dr. Jerry Falwell. However, Anderson emphasized that no matter what programs are offered or policies enacted, their results will be up to prayer and, ultimately, God.
"We can't legislate righteousness," Anderson said.
Dr. Todd Campo, vice president of student leadership, also addressed the concern.
"I think where we need to get nervous is when we fall away from our doctrinal statements," Campo said.
According to Campo, he believes that one way the university's original vision would be preserved is through the financial means in which Liberty is not dependent upon donors that may strongly influence the direction of the school, as is the case of many former Christian platforms of higher education.
Warner said he was encouraged by the turnout and with what the students had to say.
"I feel like with a majority of the questions, (the students) understood the viewpoint of the administration and also that we're open to presenting new ideas and thinking outside the box," Warner said.
To keep up with changing policies at Liberty or to speak with a student body representative, visit liberty.edu/studentlife or email the Student Government Association at sga@liberty.edu.