Striving for greatness at next level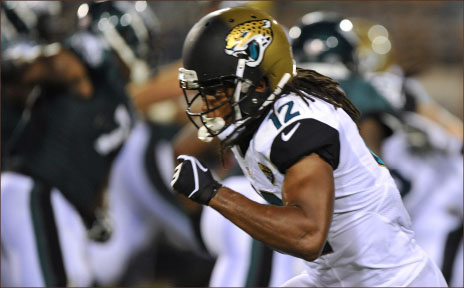 Former Flames QB and Walter Payton Award candidate plays wide receiver for the NFL's Jacksonville Jaguars
Ever since he was a five-year-old boy, Mike Brown always dreamed of playing in the NFL. Brown's dream became a reality when he signed with the Jacksonville Jaguars May 7, 2012.
Despite making it into the NFL, Brown described his journey as a wild scenario that he has been able to take advantage of thanks to former Liberty recruiting coordinator and wide receiver coach Charlie Skalaski and former teammate Rashad Jennings.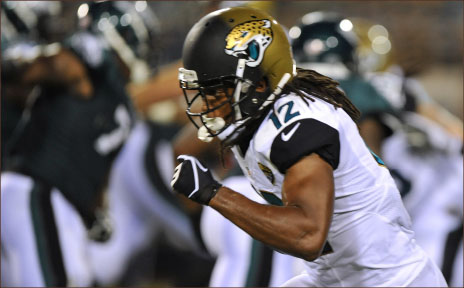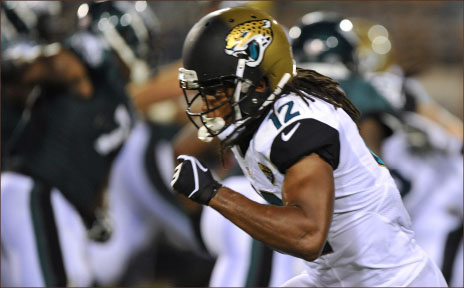 Jennings, who was a running back for Liberty from 2007-2009, has been in the NFL since 2009 and was teammates with Brown for one season.
"(Jennings) going through what he went through and playing in the NFL and coming back in the offseason helped prepare me what to expect and what to prepare for," Brown said. "So I'm very thankful to have him put me through that process."
Despite not being drafted, Brown received a training camp invitation from the Jacksonville Jaguars as a wide receiver, which opened up the opportunity for which he had always been looking.
Although he was a Walter Payton Award candidate at quarterback for Liberty his junior and senior seasons, Brown mostly played wide receiver his freshman and sophomore seasons, and the experience at both positions has helped his transition into the NFL.
"(Getting) that experience at quarterback allowed me to know … how certain things ran (and) just helped me better understand what it was like from the other side when it was time for me to go to receiver."
After impressing the Jaguars, Brown signed with the team as a free agent and managed to make the team's practice squad during the 2012 season.
Brown made his debut for the Jaguars Aug. 10, 2012 against the defending Super Bowl champion New York Giants in a preseason game.
"That was the first time it really hit me," Brown said. "I was out there, and you look across the field in warm-ups, and you're like 'Oh, that's Eli Manning. That's Victor Cruz,' and you see all those bigtime guys you sit down and watch on TV growing up."
Despite being slightly starstruck initially, Brown is embracing the chance to play across the field from star players.
"It is definitely a blessing to be here, but at the same time, you have to remember that you are here for a reason as well," Brown said. "It's very exciting to have this blessing and opportunity to be able to compete (against) those guys and those type of guys that you kind of look up to and learn from."
Despite playing in the preseason, Brown was on the practice squad for the team's first 14 games, but was finally called up to the 53-man roster and made his NFL debut against the New England Patriots Dec. 23, 2012.
Although hindered by injuries early during the 2013 season, Brown managed his first career catch Sept. 8, 2013 against the Kansas City Chiefs.
"When you have preseason games, you have some catches, you have some success and, you know, you kind of carry that same mindset," Brown said. "But to finally get a catch in a regular season is exciting, something I was really happy about. I'm looking forward to getting out there and keep on getting better."
Brown recorded a career-high four catches for 49 yards versus the Denver Broncos Oct. 13.
Although Brown is busy in the NFL, he still takes time out to follow the football program at Liberty and is excited about the direction of the team.
"I think (Head) Coach (Turner) Gill is doing a really good job there," Brown said. "We lost a lot of guys from the year that I graduated … They ended up a little shaky last year, but they ended up coming on late in the year and getting another conference championship … so I think it's very exciting to follow. It's my first time being been able to follow Liberty as a fan, so it's good. I miss (playing for Liberty), but it's definitely very exciting."
Brown credited the coaching staff at Liberty for much of his on-field success.
"I think our coaches did a good job overall, just with the way they ran the program," Brown said. "Everything was set up like a professional program. (Former Head) Coach (Danny) Rocco did a good job with that. His schedule is very similar to the way the schedule here is now. It's very organized."
Like any player, Brown has long-term goals, but for him, the short-term goals are the ones that help him to fulfill even bigger dreams.
"(I) take it one day at a time," Brown said. "I'm not too big on long-term goals. Obviously, yeah, you have long-term goals, but I'm more of a short-term type of guy, I just focus on the next day and what I can do tomorrow to get better from what I did today. So I think if I focus on it that way, what you want in the long run will definitely come."
Brown may have fulfilled his dream of playing in the NFL, but for him, this is only the beginning of the dreams he had as a five-year old boy.
"(I)'ve come a long, long ways," Brown said. "But you know, the way I see it, I still have a long ways to go."