Rand Paul motivates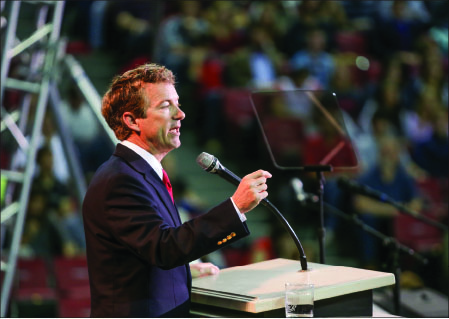 U.S. Senator visits campus with Ken Cuccinelli, challenges students
Kentucky Sen. Rand Paul and Virginia Attorney General and candidate for governor Ken Cuccinelli spoke to students in the Vines Center Monday, Oct. 28, encouraging them to stand up for their freedom and to vote in the Nov. 5 election.
Paul gave the keynote address and challenged students to defend liberty despite the hardships they may face as a result.
"What would it take for you to renounce the one you love?" Paul said. "What would it take for you to renounce your rights as free men and women? What would it take for you to renounce your God?"
Paul discussed aspects in the government he believes are an intrusion on the rights of Americans.
"The Patriot Act allows the most unpatriotic of acts – the government to search and to seize things without a judicial warrant," Paul said.
The senator, who once spoke on the U.S. Senate floor for 13 hours straight in a filibuster protesting Obama's implementation of drones, questioned what today's young generation is willing to stand and fight for.
Paul told the story of a Christian in Syria who lost his life out of refusal to recant his faith, and Paul asked students if they will stand strong in the face of difficult
circumstances.
"Will we allow fear of terrorism to cause us to give up some of our most basic freedoms?" Paul said.
According to Liberty President Jerry Falwell, Jr., Paul has not been afraid to defend freedom.
"Sen. Paul has been willing to fight to the bitter end in defense of our constitution, and yet he has displayed wisdom and pragmatism when appropriate and necessary for the public good," Falwell said.
The senator also asked students where they will "draw the line" if eugenics begins to interfere with humanity.
"My hope is that we don't lose our appreciation for the miracle that springs forth from tiny strands of DNA," Paul said.
As Paul concluded his address, he said he believes America is spiritually sick, and its future does not rest in its leaders but in Christ.
"We must realize that freedom needs virtue," Paul said. "Laws alone are not enough to civilize a nation. What America needs is not another politician. What America needs is a revival."
Paul's speech was preceded by a brief address from Cuccinelli, who asked for students' votes in the upcoming election.
"If you elect me as your next governor, I will continue to fight for the principles of this country, which are the core of the values this university itself was built upon,"
Cuccinelli said.
The Republican canidate said he plans to propose a tax cut equivalent to $700 per family of four to create 15,000 new jobs, while his opponent, Democrat Terry McAuliffe, promises higher spending, which will result in the equivalent of a $1,500 tax raise for each family of four.
Cuccinelli also said he desires to grow jobs by decreasing environmental regulations, a mission he said he pursued as Virginia's attorney general.
"I fought the (Environmental Protection Agency), which I call the Employment Prevention Agency," Cuccinelli said. "We will continue to fight the regulatory over-dos that have suffocated our economy here in Virginia."
Cuccinelli said he believes that healthcare also needs less regulation and disagreed with his opponent's belief that ObamaCare should be expanded in Virginia.
"Why would we expand failure?" Cuccinelli said.
In addition to economic policies, Cuccinelli discussed family issues and said he will fight for pro-life policies if elected.
"I'm a proud defender of our families and of marriage, and of life, and I'll continue to do that as your next governor," Cuccinelli said.
For more information on Cuccinelli, visit Cuccinelli.com.