Panel encourages writers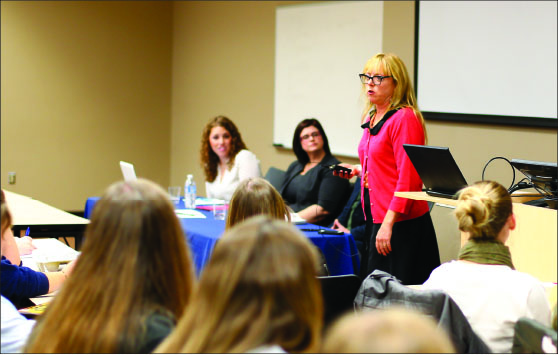 Keynote speakers talk to students about publishing trends and building an audience
The Department of English and Modern Languages partnered with the Liberty Baptist Theological Seminary Wednesday, Oct. 23, to host "Writing Culture: A Panel with Christianity Today's Her.meneutics."
Attendees enjoyed refreshments while a panel of four professionals took turns speaking on various writing topics, which included publishing trends, writing for an audience and building an audience using social media.
Dr. Karen Prior, an English professor, said the panel was part of a lecture series that seeks to enhance students' educational experience.
"I began this lecture series … because when I was a student, I attended a university where lectures were a vital part of the intellectual life," Prior said. "I have been very pleased to find that there is a hunger among Liberty students for this kind of intellectual engagement with the world."
Prior kicked off the evening speaking on publishing trends and using her most recent non-fiction work "Booked: Literature in the Soul of Me" as an example.
Nick Olson, editor and writer for "Christ and Pop Culture," followed Prior's lecture by talking about how Christian writers should know their target audience, as it is qualitative to the biblical command to "love thy neighbor." Olson said knowing the audience will allow a writer to package a message properly.
"We as Christians sometimes struggle with having both good content and good form," Olson said. "I would emphasize that you care about the form of what you write as much as the
content."
Suzanne Kuhn, owner of Suzy Q, an author promotion and retail development firm, provided tips for writers to appropriately use social media to engage and relate with their audience.
"We need to be approaching (social media) in a way that is not self-promoting and not pushing an agenda," Kuhn said. "We want to have a dialogue versus a monologue."
The keynote speaker of the night was Kate Shellnutt, editor of Christianity Today's Her.meneutics, a blog for women.
Shellnutt quoted her colleague, Andie Moody, who said that it is the calling of Christians to be stewards of language. Shellnutt added that Christian writers should produce quality work.
Shellnutt, who has her master's degree in reporting and online journalism, encouraged students to be active writers.
"Working for a campus newspaper, website or blog are great ways to get yourself out there," Shellnutt said. "I think journalistic blogging and reporting is such a strong skill to have. It's a good basis to build another writing career off of."
Prior also had advice for young writers.
"If students are interested in being writers, then they simply need to write," Prior said. "And keep writing. Students who are patient and persistent will find doors opening."
Laura Captari, Liberty graduate student and director of professional public relations at American Association of Christian Counselors, was among the many young professionals in attendance.
"As a young professional, so much of writing is theoretical — what we learned in school," Captari said. "Tonight's event really helped make it practical to give those of us who are new in the field a place to start."
Captari said she believed the speakers also instilled a sense of hope in young writers with their stories of professional growth.
"When you're just starting out, you have a desire for God to use you, but it can seem so overwhelming," Captari said. "I'm encouraged to be proactive … and trust God in the process."
At the end of the night, Shellnutt announced the first writing contest for Christianity Today's Her.meneutics that allows student writers to submit an 800-word essay reflecting the style of writing Her.meneutics publishes. According to Christianity Today's website, the winner will be published on Her.meneutics.
For more information on the writing contest, visit christianitytoday.com/go/studentcontest.