Miss America makes history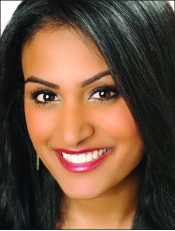 The only beauty pageant I ever sat through was the fictional Miss America contest depicted in the classic Sandra Bullock film, "Miss Congeniality."
Miss America is an icon that millions of girls aspire to become. This year's winner was a 24-year-old Indian-American woman, Nina Davuluri from New York.
Davuluri's crowning ceremony made history. According to NPR, she is the first Miss America to come from Indian descent, and unfortunately, because of that, she received some racist and extremely negative tweets after her win.
Her platform was mainly centered on the evolution of American diversity, more specifically, diversity in this pageant. She was one of the last two Asian-American contestants left standing.
Roxanne Jones, a founding editor of ESPN The Magazine, wasted no time proposing ideas for Miss America's international tour.
"I hope you use your crown and platform well and that you have the courage to amplify the voices of those women and girls back in your ancestral home, India, who are valiantly fighting for full equality and the right to live without fear of the brutal sexual violence that plagues that nation," Jones wrote in a letter to Miss America.
In response to all the negativity and racial divides, Davuluri pronounced to Time Magazine, "I have to rise above that. I always viewed myself as first and foremost American."
I love that.
Regardless of how anyone feels about beauty pageants, we can at least admire this young woman's patriotic mindset that she is not Miss India-America, but she is Miss America, plain and simple.
She understands that winning Miss America is about being the best contestant, not the best minority contestant. She understands that America is and has always been a melting pot, where people of all backgrounds come together under commonalities of our nation's principles, and that, although we come from many places, we are one people.