Duck Commander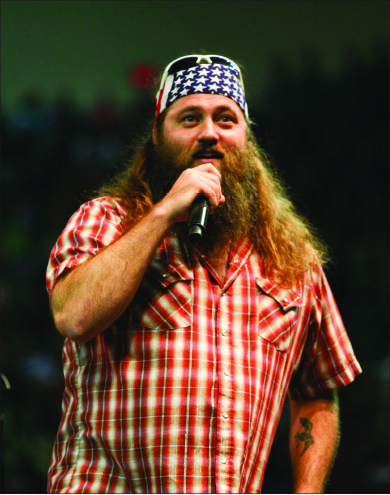 Reality TV star Robertson speaks on faith, family and ducks
Liberty University Convocation, normally a sea of red the day before football games, contained a little more camouflage, Friday, Sept. 27.
Willie Robertson, star of television's "Duck Dynasty" and CEO of hunting supply company Duck Commander, made his first appearance at Liberty Convocation, sharing how God has used his family through their show.
College for a Weekend participant Rachael Daddona said she arrived with other members of the dorm she stayed on at 9:30 a.m. and had to sit on the stairs between sections because the Vines Center was so crowded.
"It was amazing to see so many people in one spot, and (Robertson) was really interesting," Daddona said.
Robertson, sporting his trademark American flag bandana and chest-length beard, discussed the path he and his family took to stardom, crediting God for guiding his parents through a few key decisions that shaped the lives of every one of his family members and led them to Christianity.
Liberty freshman Erica Balboa, dressed like most of her dorm in bandanas and camouflage, and Daddona said they had never heard Robertson's story of how his father turned his life around, despite being fans of the show.
"It definitely makes him more relatable," Daddona said. "It just helps to grasp what he's saying, and it has more meaning to see his faults and stuff in his life and his family."
Robertson brought a duffel bag filled with "Duck Dynasty" memorabilia and displayed them one by one throughout his talk. Although the Willie Robertson loofa, Chia Pet and bobblehead served as comic relief during Convocation, Robertson preferred to use them as an illustration of what God has done through the show.
He said each episode of "Duck Dynasty" ends with the Robertson family saying a prayer, an act that allows them to give a positive example of Christianity on a secular network.
The A&E Network reality show focuses on three generations of the Robertson family doing various things where they live in West Monroe, La., such as hunting, fishing and running Duck Commander, along with adventures with a few friends. Since the show's premiere in 2012, its popularity has continued to grow.
According to the New York Times, 11.8 million people watched the "Duck Dynasty" season four premiere episode Aug. 14, the largest audience in cable television history.
"I just think it gives a new spin on reality TV and just famous people," Daddona said. "Because they are Christians, which a lot of people on TV aren't … It's just something different. It's a needed break from the constant Hollywood stuff."
The rest of season four of "Duck Dynasty" can be seen Wednesday nights on A&E.