Chamber promotes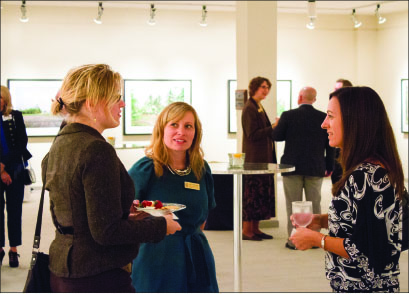 People were encouraged to mingle at "Business After Hours"
The Lynchburg Regional Chamber of Commerce hosted "Business After Hours" Thursday, Oct. 10, where local businesses and Chamber members were encouraged to network in order to build lasting business relationships within the Lynchburg community.
Maier Museum of Art at Randolph College served as the venue and welcomed business representatives from around Lynchburg to network among the museum's collection of 19th and 20th century works.
According to Mike Lewis, director of sales for the Chamber, this is the first time the Chamber has held "Business After Hours" at Maier Museum of Art.
Lewis said he believes many locals are unfamiliar with what Lynchburg has to offer, thus the reasoning for choosing this venue.
"The idea is to give our business community — our members — a chance to see some of the things about Lynchburg that they may not be as familiar with as they should be," Lewis said.
Lewis said that promoting business networking is always the "subtext" of any event hosted by the Chamber.
"Anytime we get several Chamber members together, there's always the opportunity for new business contacts," Lewis said.
Liberty University alumnus Benjamin Walls of Walls Insurance Agency was among those representing local businesses taking advantage of this opportunity.
"With this industry that I'm in, it's all networking, and since I'm not from (Lynchburg), this is very important to get to meet new people — people who have been here for years, who are more established," Walls said.
Not only were business representatives able to network, but they were also able to meet the new president of Randolph College, Dr. Bradley "Brad" Bateman. Bateman said he entered the position July 1 after serving six years as provost of Denison College in Ohio.
According to Bateman, "Business After Hours" was a chance for locals to see what is in their own community. Bateman also noted the venue as culturally significant.
"It's a wonderful opportunity for us to have the business community on campus get to see the Maier Museum … one of our real gems," Bateman said. "We have one of the best collections of 20th-century American art in any small college in America."
Martha Johnson, director of Maier Museum of Art, addressed the crowd following an official welcome by Bateman. Johnson shared a brief history of the museum and its intended purpose during the Cold War as a safe haven for pieces from the National Gallery, a government project known as Project Y.
According to Johnson, the museum, which was still under contract with the National Gallery, was renamed Maier Museum of Art in 1983 following a generous donation by the Maier Foundation of West Virginia.
Following the remarks, four door prizes were awarded to local businesses, including the Liberty Champion.
For more information on "Business After Hours," visit lynchburgchamber.com or call (434) 845-5966.