Cameron's 'Unstoppable' premieres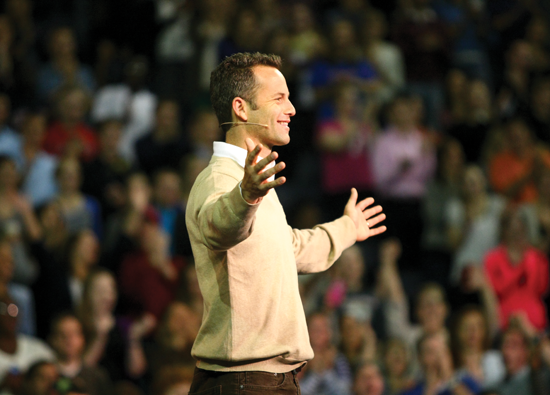 After months of production and preparation, actor and producer Kirk Cameron released his latest film, "Unstoppable" — a film he calls "the most personal project I have ever made" — Tuesday, Sept. 24.
According to Cameron, more than 150,000 people across the U.S. attended the premiere. At Liberty University, a near-capacity crowd filled the Vines Center to view the film.
Opening with the introduction filmed in Convocation Monday, Sept. 23, Cameron welcomed all those viewing from more than 700 theaters around the nation. With Cameron watching from the front of the arena, the film began, its sound filling the silent room as students quietly watched the debut.
"I was just very excited," Cameron said. "I felt like I was going out to unveil something that was very special to me and something that I felt would be a real gift to other people who were struggling with finding God in the midst of their tragedy and suffering. So it kind of felt like Christmas morning. It was just very exciting to go out there and unwrap this present for everybody."
The film began with Cameron describing the moment he found out his young friend Matthew Sandgren had passed away after approximately 10 years of fighting cancer. Taking the approach of a story teller, Cameron used his film to artistically portray events from the Bible as a way to answer the question of why God would allow evil things to happen to good people.
"(W)hat I try to do is look at it like a story and try to climb up to heaven's balcony and look at the story that God's been writing since the Garden of Eden, all the way through the fall and the flood and the crucifixion, up to today, and show that tragedy has been part of the story the whole time, and God's never taken his hand off the wheel," Cameron said in an interview.
Toward the end of the film, Cameron brought the story full circle by portraying Sandgren's funeral. In an interview, Cameron said he knew where God was during the tragedy of Sandgren's death.
"The same place he was when Cain murdered Abel," Cameron said. "The same place he was when God flooded the world and put Noah in a boat. The same place he was when Jesus was crucified. He's right there in the midst of our trials."
Although Cameron admitted there is no definite answer to the question of suffering, he said God still works through the tragedy.
"(G)od could've healed Matthew (Sandgren)," Cameron said in an interview. "And if you were to ask me 'why didn't he,' … I don't. We don't know the answer to that. But we can look and see throughout history what God has done through the tragedy that he allows, and it's always good. It always produces what's good for his people and what advances his kingdom … I wanna show that there is a victorious, triumphant reason for all pain and suffering, and we wouldn't want it to change even if we could, because the author of the story is up to something magnificent."
According to Liberty sophomore Samantha Foster, she left the movie knowing that, although she may not fully understand, God is still in control.
"(W)e are gonna have questions on this side of heaven, but when you trust in Jesus and you trust in God's plan and in his purpose, that's enough to answer the questions," Foster said. "We don't always have to know why, but we know who God is and we can just remember that and keep that as our focus."
Cameron said "Unstoppable" has been a wonderful partnership with Liberty and that he has fallen in love with Liberty and the students. Chancellor Jerry Falwell, Jr. agreed with the positive impact of the partnership.
"Liberty University is proud to sponsor the new film, entitled 'Unstoppable,'" Falwell said. "In it, (Cameron) uses his skills as an actor and filmmaker to tell the story of creation, man's fall from grace, and God's ultimate victory over death and hell through Jesus Christ in a compelling documentary that anyone can understand."
Cameron said the film strengthened his faith, and he hopes those who watch it will also walk away with their faith strengthened.
"What I hope for most is that people will watch the movie and come out and say (that) my son's death or my family's tragedy was not in vain, that God has a plan, that God didn't create a world where tragedy is senseless," Cameron said. "God doesn't do anything random. He has a purpose, and his purposes are unstoppable, and I trust him."