Alzheimer's researched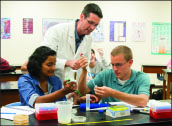 Isaacs wins award for researching multiple medical links to dementia
Dr. Gary Isaacs, assistant professor of the Liberty University Department of Biology & Chemistry, was recently awarded the 2013-14 Alzheimer's and Related Diseases Research Award Fund (ARDRAF) in order to further his research and provide students with better research resources.
Isaacs applied for the ARDRAF through Liberty last April. With this current award, he received $40,000, bringing his research total to $90,000 since his first year at Liberty in 2009.
According to its website, the Virginia Center on Aging administers the ARDRAF, which provides funds to researchers in Virginia to stimulate groundbreaking research into biomedical and psychosocial features of dementia.
Through observation of and interacting with students in class, Isaacs handpicks six students who are willing to give their time and energy for research, he said. The students not only learn new findings in the scientific world, but also learn how to write proposals when they discover them.
"They are learning how to do the last part of research, which is (to) tell the world," Isaacs said.
Generally, the students who research under Isaacs continue to do so for two years. He said he not only wants to show students how to do an experiment for the sake of experimenting, but he also wants to do it so they can write, document and publish data.
"I'm trying to teach students how to be really good scientists," Isaacs said. "The best way to do that is to not tell them how other people have done it, but to have them do it themselves."
This teaching method has enabled Liberty students to showcase their research to other schools in Virginia. The Virginia Academy of Science hosts a meeting every spring, and Liberty competes with prestigious Virginia schools such as the University of Virginia and George Mason University. For the past two years, Liberty students have taken the top two awards.
"At these meetings, everyone knows Liberty University, and they know our students," Isaacs said. "I've had other professors who have said, 'You've got a good group of kids, and you guys are doing a good job.'"
Along with recognition, Liberty is making a name for itself in the scientific world of research.
"Here we are at Liberty University, a big school but a small research school, and people are saying we are worth it," Isaacs said. "To me that's just God's blessing."
Isaacs and his students have recently been studying Alzheimer's disease and examining differences between human cells before and after Alzheimer's development by studying mice as they age. They also examine how diet affects the development of Alzheimer's and similar diseases. This study will take a year to complete.
"The minute I get a grant, I'm super excited," Isaacs said. "Then I get back to the trenches of basically doing new
applications."
According to Isaacs, he may write grants in order to fund research, but it is not in his job description. He does it for the students.
"These students need this," Isaacs said. "I need to write grants. I need to secure funding so that I can expose these students to stuff that, to be honest, they can't afford on their own, but they can't afford not to have."
Despite ongoing success and recognition, Isaacs continues to hold his researchers and himself to a high standard.
"Jerry, Sr. used to always say that if it's Christian, then it should be better," Isaacs said.
Applying for funds is an ongoing process, Isaacs said. He is currently in the process of applying for five other grants in order to prepare for future years. The largest grant, given by National Institutes of Health, awards a maximum of $300,000. It will take up to nine months for the application to process.