Alumna excels in education field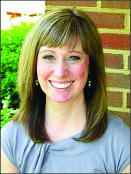 Graduate receives Virginia regional Teacher of the Year Award and becomes finalist for statewide recognition
Liberty University alumna Jennifer Lovett has been recognized as one of the best teachers in her field in Virginia.
Lovett has received the Teacher of the Year Award for region five in Virginia, making her one of eight finalists for the statewide award. She will have an interview Oct. 11 with the state panel at an award's ceremony banquet for the Regional Teachers of the Year. There the state panel will select one of the eight finalists to be the 2014 Virginia Teacher of the Year.
Despite receiving this honor, Lovett said the true reward is in seeing her students improve in reading.
"One of the sweetest sounds is hearing my kindergarten students, who did not know letter sounds in August, reading books in the spring," Lovett said.
Lovett is a reading specialist at Linkhorne Elementary School in Lynchburg. She completed her undergraduate work studying elementary education at Liberty in 2002 and received her master's degree from Liberty as a program specialist in reading in 2008.
Lovett said her passion for teaching reading comes through her faith.
"I know that it is the Lord who enables and equips me to do this work and who has brought me to this place," Lovett said. "Whatever the outcome, I feel truly blessed, and I desire to continue to do the good work that God has given me to do and to do it to the best of my ability."
The faculty and staff at Linkhorne Elementary selected Lovett as their Teacher of the Year in April 2013.
After submitting her views of teaching and interviewing in May, Lovett was selected from a group of 18 teachers as Lynchburg City Schools Teacher of the Year.
"I had to prepare a portfolio to send to the Virginia Department of Education," Lovett said. "This summer, a state panel reviewed the portfolios and selected one teacher from each of the eight regions in Virginia to be the Regional Teachers of the Year."
Lovett said she began teaching at Linkhorne in August of 2008. On a daily basis, she takes students who are having difficulty learning to read and who read below their grade level from their normal classrooms, and teaches them on their instructional level in a small group setting. This additional instruction in reading is intended to help bring students to their grade level by the end of the school year.
Lovett said she also works with classroom teachers to teach, assist and coach them in the reading instruction they provide to their students. She said she believes teaching children to read is not just so they can be on the same level as their peers, but also so they can avoid struggle in their personal lives.
"Acquiring the ability to read is vital to them being able to live happy, healthy lives as responsible citizens," Lovett said. "I greatly enjoy aiding children in their process of learning to read."
In aiding each of her students in reading, Lovett said she offers encouragement to Liberty students. If she could advise any student, she said she would encourage them to meditate on 2 John 5-6, which instructs Christians to love one another.
"Whatever you do, love God," Lovett said. "He is worthy of your heart and life. And in loving him, actively and purposefully, love the people that he places in your life – wherever you are, with whatever work He has given you to do."