Magazine highlights trail system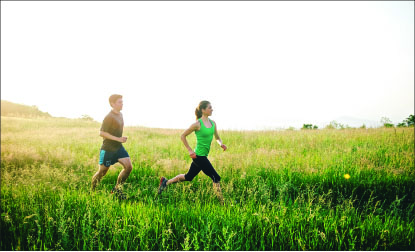 Trail Runner Magazine features Blue Ridge trails, as well as Liberty employees Brenton and Jamie Swyers
Liberty Mountain and the greater Blue Ridge area have been popular trail running spots for years, but earlier in September, the trails were promoted by Trail Runner Magazine, which featured two Liberty University employees.
The magazine encourages off-road exercise as a way of living healthier and has ranked Lynchburg the second-best trail running community in the nation. The magazine's September issue specifically detailed Liberty's trail system and highlighted Liberty staff Jamie and Brenton Swyers on the cover.
"The article was definitely great publicity for the Lynchburg area as a whole," LaHaye Student Union Associate Director Jamie Swyers said. "I have read the magazine in the past, and it is a great resource for trail runners."
The magazine detailed Lynchburg's diverse array of trail running opportunities, including places such as Blackwater Creek, Peaks View Park and the Liberty Mountain Trails.
According to Associate Director of Student Activities Josh Yeoman, who is also a trail runner, people like Lynchburg for the sport because it has a diverse number of quality trail races that span different distances.
"I hope the article brings attention to Lynchburg, Liberty, The Liberty Mountain Trail Series and the Liberty Mountain Trail System," Yeoman said. "I hope to see new faces at our (Student Activities) races this year. I believe people in the surrounding areas like Roanoke and Charlottesville might now be more willing to come to Lynchburg for a weekend to race or just enjoy the trails."
The Liberty Trail System consists of more than 50 miles of trails made for walking, running, hiking and biking, according to Liberty's website.
According to Yeoman, Dr. David Horton, an exercise science professor at Liberty, was the pioneer of the Liberty Trail System. Yeoman said that, until 2006, Horton, his running class and Lynchburg's community of ultra runners were the only ones making the trails.
"In 2006, Vice President of Auxiliary Services Lee Beaumont helped to make the trail system what it is today," Yeoman said. "Lee helped develop the system into something that the entire community could use."
Jamie Swyers said she loves trail running because of the community that surrounds it. She loves being around a crowd that enjoys spending hours
outdoors.
"Trail running is just a stress-free environment," Jamie Swyers said. "I love that the sport is less about pace, splits and exact mileage, and more about enjoying the hours training. During a long trail run, if there's an overlook with a view, most of the time we stop and enjoy it. We don't stop our watches or worry about the minutes wasted. We hike the tough climbs and eat real food during runs. It's tough training and hard work, but without a high-pressure atmosphere. It's just a special sport that's easy to fall in love with."
Although heavily used by regular trail runners, the Liberty Trail System is available for all of the Lynchburg community, Yeoman said.
"You don't need to be a trail runner to enjoy the Liberty Trail System," Yeoman said. "The trails are there for anyone to enjoy. People can come mountain bike, run, hike or just go for a leisurely stroll."