Lynchburg bakeries: Father's Table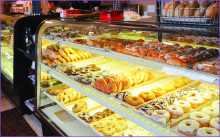 The friendly atmosphere of Father's Table stood in stark contrast to the gloomy Lynchburg weather as I walked into the cafe on a rainy Saturday morning.
Inside, head chef and owner Ken Reed greeted me and kindly invited me to help myself to the breakfast buffet and a cup of fresh coffee as he sat down to share his story and the history of his bakery.
Located on 18396 Forest Road, Father's Table is a locally owned and family-operated cafe and catering business. According to Ken Reed, owning the bakery fulfills a lifelong goal.
Ken Reed attended culinary school in New York, and has more than 40 years of job experience.
"I love what I do," Ken Reed said. "It's a happy, warm place. Good food, good conversation, good Christian music playing in the background."
Though not everyone who walks into Father's Table is Christian, Ken Reed has made the bakery his mission field, showing the love of Christ to all who venture inside.
"We want to present the gospel in a nonconfrontational way," Ken Reed said.
Customers will find scriptures interspersed throughout the bakery, and the name was even inspired by a devotional radio program.
This is the third year that Father's Table has been open for business. However, according to Ken Reed, success has not been without difficulties.
"We have the challenges of small business," Ken Reed said. "It seems like the odds are against small businesses in this country, so we fight those odds every day."
Despite challenges, Ken Reed affirmed that the bakery has a faithful clientele and maintains a loyal following.
"We let our customers do the judging," Ken Reed said concerning the quality of the food.
According to Ken Reed, the bakery's best sellers are its doughnuts, particularly the maple bacon, which sell out by early morning. Ken Reed offered me what he considered a close runner up, coconut macaroon ­— a doughnut that could also take first place.
Ken's son Seth Reed is one of chefs at Father's Table and a recent Liberty graduate. He took a moment of his free time from the kitchen to sit down and give his insight on the company.
"I love working with Dad," Seth Reed said. "We've always had a very strong relationship. He's my best friend."
The Reeds begin looking at the production schedule at 3 a.m., filling catering orders and baking every item fresh from scratch.
"Usually when he gets here he makes coffee, reads his Bible, then starts the day off," Seth Reed said about his father, Ken Reed.
Though days are long, generally 12-16 hours, Ken Reed is passionate about what he does.
"I've learned the spiritual lesson that no matter how things look, we still need to just trust," Ken Reed said. "Things can look bleak, but we have to realize where our resources are really coming from."
I left my interview with Ken and Seth Reed encouraged and well fed. The food is delicious and the mouthwatering pastries leave you promising to come back. More than just a destination for flavorful food, Father's Table is an atmosphere of home away from home. It is unlikely that I will meet a more genuine family or more welcoming space than at Father's Table.
For more information, visit fatherscafeandcatering.com, and according to Ken Reed, customers who present this article in store will receive a buy one get one free doughnut.*