Going to World Cup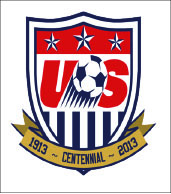 Men's soccer team triumphs in qualifier for seventh year
Does the World Cup matter to the majority of Americans?

Probably not, but perhaps it is time for Americans to get behind their ever-improving men's national team.
While most Americans would claim to never watch or care about soccer, television ratings would seem to differ. According to Nielsen ratings, the 2010 World Cup final drew more than 24 million total viewers in the U.S. — a record for soccer. And the U.S.-Mexico World Cup qualifier Sept. 10, 2013 drew a 1.9 rating — again, the highest for a World Cup qualifier in U.S. history.
These are great signs for the increasing popularity of soccer in the United States. But soccer is still not covered or viewed as one of the major sports. However, this may change after the 2014 World Cup depending on the success of the U.S. men's national team.
The 2-0 victory for the U.S. over Mexico Sept. 10 clinched a seventh-straight World Cup appearance for the team — something not even powerhouses such as England, France or the Netherlands have accomplished.
Yes, the U.S. does not face the same level of competition in the CONCACAF region that many of the European or South American teams face, but qualifying for the World Cup is an impressive feat in any region.
While the U.S. is not able to challenge itself consistently in CONCACAF, manager Jurgen Klinsmann has scheduled very difficult friendlies, and the team has been able to hold its own versus top quality teams from Europe. A 4-3 victory over then second-ranked Germany in May sparked a record 12 match-winning streak, which also included a Gold Cup title and a win at previously 13th-ranked Bosnia-Herzegovina.
The players for the national team have also challenged themselves across some of the toughest leagues in Europe. Michael Bradley, Jozy Altidore and Clint Dempsey are just a few of the Americans who have made a tremendous impact at the top tier of European soccer in countries such as England, Italy and the Netherlands.
No longer is the U.S. a laughing stock in world soccer, but with world-class players, an experienced manager and increased fan support, the team rightfully has high expectations for the 2014 World Cup. So maybe it is time for Americans to get behind their national team and give the beautiful game the chance it deserves.