Colorado floods devastate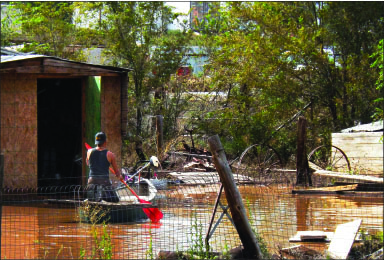 Heavy rain causes destruction, killing six and impacting members of the Liberty family
Northern Colorado has been hammered by heavy rains and catastrophic flooding since Sept. 9, causing six deaths and leaving thousands of homes destroyed.
Although Colorado is half a country away from Liberty University's campus, Liberty Online adjunct faculty Jessica Cromley and Trisha Anderson are both in the midst of the disaster.
According to Cromley, her family's home is a mere eighth of a mile away from a river, so when the National Weather Service (NWS) issued warnings about "biblical rainfall," things got tense. Thursday, Sept. 12 marked the day when things started to become worrisome.
"Our family has owned this home for 30 years, and there was only one other time that the NWS indicated a surge over flood stage was anticipated," Cromley said." We went to bed not knowing what to expect the next morning."
The phone rang at 12:45 a.m. with a pre-evacuation alert, Cromley said.
"For the next six hours we tried to sleep and just waited for the next phone call."
The Cromleys live near Fort Collins in Larimer County. According to Cromley, they were never forced to evacuate, but the water from the river came within 200 yards of their house.
"At one point, my mom put a stick in the ground to measure the rise for one hour. When we went back to check, the water level had risen three inches," Cromley said. "God spared us from any property damage, and we did not have to evacuate. Compared to so many others, we are extremely fortunate and richly blessed."
The church that the Cromleys attend, Timberline Church, was used as a Red Cross evacuation center to assist displaced people, according to Cromley. Many families were separated. People brought anything they could carry with them, including dogs, cats and even parrots, according to Cromley.
"It was heartbreaking to realize that the backpacks they carried might be all they had left," Cromley said.
Yet in the wake of so much destruction and loss, Cromley said that the people of Colorado have banded together to become stronger than ever. Good will and compassion abound in the citizens of the affected areas.
"There is a sense of hope which can temper the loss and despair that so many are facing," Cromley said.
Fellow adjunct faculty member Anderson relayed stories of how Colorado has united in the face of this disaster.
According to Anderson, when a University of Colorado Saturday football game Sept. 14 was cancelled due to flooded roads, the football team took all the food meant for concessions that day and served it to evacuees. Anderson's church is also a Red Cross evacuee center and has had a huge amount of support from the community.
"There have been about 600 people come through there to get a hot meal, spend a night, reconnect with family," Anderson said. "The amount of volunteers and service being offered is amazing."
Roads around Anderson's home are re-opening, and she said she was not forced to evacuate.
Although many like Cromley and Anderson did not sustain any property damage, the early state emergency office gave estimates saying that 18,000 houses had been damaged and 1,500 had been destroyed in the affected areas.
The local Virginian organization Gleaning For The World (GFTW), based out of Concord, has organized a relief effort to send non-perishable foods, baby supplies, cleaning supplies and personal care items to affected areas in Colorado.
GFTW has already sent one shipment of 4,200 blankets to Colorado, and will continue to send more supplies as they become available, according to GFTW Communications Director Andrew Young.
Young said if people are looking for ways to help, they can donate money, products, or come volunteer at a warehouse or collection site.
For more information on how to help with the disaster relief, visit gftw.org.