Bowden inspires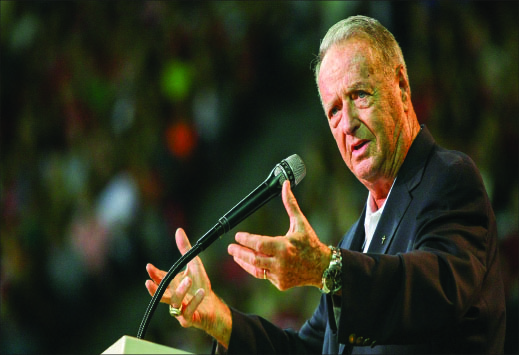 Nearly 10,000 students gathered in the Vines Center Friday, Sept. 13, to hear from a man who once coached before a home crowd of more than 80,000.
Bobby Bowden, the winningest coach in Football Bowl Subdivision (FBS) college football history and former leader of the Florida State Seminoles, discussed God's guidance and provision in his life as he shared his story at a Convocation service.
"Sixty years ago, I was sitting right were you are," Bowden said. "I can look back and see exactly how God put my life together."
Bowden said he developed pneumatic fever at 13 years old. The illness kept him from attending school and exercising. Doctors projected that Bowden would only live to be around 40 years old, but Bowden asked God to intervene.
"A couple years later, I did get healed," Bowden said. "I told God I would serve him through athletics, and that's what I tried to do."
Bowden told the story of his journey to becoming head coach at Florida State and attributed each one of the jobs he acquired to God's work in his life. He said he never applied for a coaching position he received. For each of the six jobs he held throughout his career, the teams called him.
"Ain't God good. Ain't God good," Bowden said.
Liberty student Seneca Elliott said she enjoyed hearing Bowden's story.
"It was just amazing to see how God has worked in his life and has given him all these jobs, and it's exciting to think what's God going to do in my life," Elliott said.
In addition to sharing his story, Bowden advised students to always be sure God is their first priority and family their second priority when making decisions.
"Don't do nothin' if you don't think God wants you to do it," Bowden said. "If you'll follow that, then I think you'll end up successful."
Bowden also cited Proverbs 4:23, which says, "Keep your heart with all diligence, for out of it spring the issues of life."
To illustrate the verse, he told the story of the University of Illinois football team snapping an 18-game losing streak against number-one-ranked Michigan in 1939. He asked students how the win was possible.
"They wear the same pants," Bowden said. "They wear the same helmets. They got the same set of muscles, but it's not the same team (that lost so many games), because the issues of life come from where? The heart."
Along with providing advice and sharing his story, Bowden did not fail to give his audience several laughs.
"My wife, she used to get on me every year and every game," Bowden said. "'Bobby, you do love football more than you do me. Bobby, you do love football more than you do me,' and I said, 'College or pro?'"
Bowden returned to Liberty for his first time since visiting in 2007. He said he was impressed by the university's growth but saddened by the death of Dr. Jerry Falwell, Sr.
To view his entire message, visit youtube.com/libertyuniversity.