Bedford will 'Never Forget'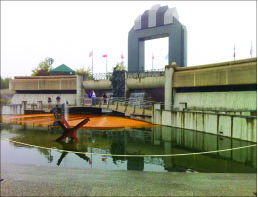 The D-Day Memorial held a ceremony to bring awareness of POW/MIAs of America
Citizens of Bedford and surrounding counties came out to "Never Forget," a prisoner of war/missing in action (POW/MIA) awareness event, at 11 a.m., Sept. 21.
The ceremony was originally supposed to be held at the National D-Day Memorial in Bedford, Va., but rainy weather forced the event to be moved into the nearby Bedford Elementary School at 806 Tiger Trail.
The event featured former Air Force Disc Jockey Adrian Cronauer, who was portrayed by Robin Williams in the movie "Good Morning, Vietnam!" Cronauer spoke about his position as special assistant to the director of the Pentagon's POW/MIA Office, which he took over after 9/11.
According to Cronauer, the POW/MIA Office does three things. The first is making sure that the soldiers are properly trained and equipped so that they do not get left behind or become a prisoner of war. The second thing that the Pentagon does is follow up on every credible report that they receive in America.
"We do not pay, ever, for any information about missing Americans," Cronauer said. "But if a report does lead to an alive American, then we do reward them."
According to Cronauer, the majority of the office's time and effort is spent trying to account for those who are missing or still unaccounted for. The Joint POW/MIA Accounting Command (JPAC) sends out teams led by professional archeologists to go to plane crash sites and burial grounds of POW camps to retrieve the remains of missing Americans.
"When they (find Americans), they bring them back to the POW identification lab in Hawaii," Cronauer said. "And then a professional will take the bones or whatever we bring back and try to identify who they are between the remains themselves and the things we find buried with them."
Cronauer noted how advancements in technology and the use of DNA have made it easier to identify soldiers in recent years. He estimated that somewhere between 50 and 100 people are found
every year.
"It's so small a number because it takes such … effort to bring people back and to identify them," Cronauer said. "Now we've got DNA, but back in Korea, World War II and Vietnam we didn't have DNA, so we have to rely on other things."
April Cheek-Messier, president of the National D-Day Memorial Foundation, said that documenting the loss of soldiers, name-by-name, was important to honoring them.
"It is our obligation as American citizens to ensure that we continue to locate and bring home every last service member who has serviced this great country," Cheek-Messier said. "Today, and everyday, we should be mindful of the sacrifices made by our veterans — by those who were held as prisoners of war, by those who have paid the ultimate sacrifice and by those still unaccounted for."
According to Felicia Lowrance, the education coordinator at the National D-Day Memorial, the key to assisting POW/MIAs is the raising of awareness.
"When you think across our country we have the Korean War memorial, the Vietnam Wall Memorial for soldiers who have paid the ultimate sacrifice to protect our country, but we don't think about those men who were captured or are missing," Lowrance said. "As far as getting involved, it is getting involved in events like this that really help."
Felicia added that National D-Day memorial events similar to "Never Forget" are open to students. For more information, visit DDay.org.
National POW/MIA Recognition Day is nationally observed and proclaimed by the United States president every year as a time of remembrance.