10 Miler approaches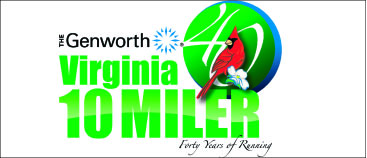 The Genworth Virginia 10 Miler kicks off Sept. 28
With the Genworth Virginia 10 Miler quickly approaching , more than 4,000 people are preparing to run in the 40th annual event.
The 10 Miler will take place Saturday, Sept. 28 and will begin at E.C Glass High School.
"The race is meant to be a footprint that captures what Lynchburg is," Jeff Fordoko, the 10 Miler director, said. "People from all over come to experience our city."
Fordoko and volunteers are continually encouraged by the positive difference they see in the health and wellness of the community.
In addition to the 10 Miler, other races, including the 4 Miler, 4 Mile Walk and the Amazing Mile Children's Race — offered in half mile and quarter mile increments — offer the opportunity for people of all ages and physical conditions to participate. There are also Safety Awareness Fitness Excellence (SAFE) Strides training team meetings offered by the downtown and Jamerson YMCA. The training teams are run by YMCA-trained professionals who coach participants to meet their fitness goals for this year's event.
Festivities begin with the packet pickup, which will be held at Amazement Square, Thursday, Sept. 26, 12-7:30 p.m. and Friday, Sept. 27,
12 p.m.-5 p.m. According to virginiatenmiler.com, the packet pickup will feature live music, games, Liberty University's Soar Dunk Team and Liberty's mascot, Sparky.
After the packet pickup, all races will begin Saturday at 8 a.m.
Participants such as Bill Draper have enjoyed the race for years. Draper, who is 85 years old, has participated in every 10 Miler since 1973, when the first race was held. Draper has lived in New Jersey for the last 37 years, but has made an effort to be at the starting line for every 10 Miler.
"I have met a lot of interesting people in the last 40 years of the race and made a lot of friends," Draper said. "The races are always exceedingly well organized, as well as full of comradery and fun."
In addition to Draper, the 10 Miler will host Kathrine Switzer, the first woman to officially enter and run the Boston Marathon in 1967, according to virginiatenmiler.com.
Switzer will be returning to Lynchburg, where she began her running career at Lynchburg College, for the event.
Fordorko said that because Liberty has a large hand in supporting the race, there will be hundreds of Liberty employees and students attending the event.
According to Paul Carmany, a Liberty assistant athletic communications director, Liberty junior and runner Caroline Parris is a potential competitor this year, because in 2012, she placed 72nd overall in the 10 Miler with a time of 1:06:43. She finished first in her age group and 15th among other females.
Those who wish to participate in any of the races can sign up at the packet pickup.