Wheeler defies the odds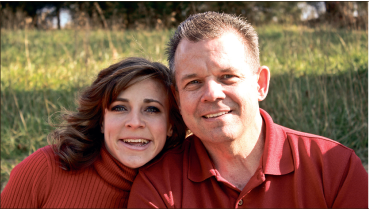 Kara Wheeler, an early childhood development major, will be graduating from Liberty University May 2013, defying the odds and the predictions of countless naysayers who told her that this feat would not be possible.
Born 14 weeks early and weighing a mere 1 pound, 15 ounces, Kara was diagnosed with a mild form of cerebral palsy at age four. The daughter of Professor of Evangelism David Wheeler, Kara said that whenever someone told her that she would not be able to graduate high school or go to college, she knew that she would find a way to prove them wrong.
Before Kara arrived at Liberty, David said that he and his wife did not know what to expect for their daughter's time in college.
"We always taught our kids to pursue excellence, not perfection," David said. "We just wanted Kara to apply herself and do the best she could. She is a very social person, and so we knew she needed to live on campus and have friends. We wanted her to enjoy the college life and … for God to be able to work in her and show her what it is he wanted her to do."
Kara wanted to spend her life working with preschoolers at a day care, but after going on a missions trip to the Philippines, she knew that God was changing her heart.
"Pretty much throughout the mission's trip, the Lord (said), 'Kara, this is your calling. You cannot run away from your calling anymore,'" Kara said, remembering how God had spoken to her. "So I feel like God has called me into the missions field, and in his timing, hopefully after Christmas, I'll be going back to the Philippines where I was and (will be) doing an internship. Throughout the internship, I'll hopefully be working with the local school there and develop special needs programs."
Counting down until graduation, Kara said that the hardest part about college has been the work load, and her favorite part has been the friendships that she has made.
"The people that I've met here — I know that we'll be friends for life," Kara said. "And I know that wherever the Lord has me, he will be by my side."
Relationships she has formed not only include her fellow students, but also the professors that have helped her along the way. She said that her Family and Consumer Science (FACS) classes have been her favorite classes, because she has learned essential information for the future.
"To have professors here that will help me with my learning disability and to tell me that they believe in me and that I can do it, it's been really encouraging, because, through the years, many people told me and my parents that I would never graduate and I would never go to college," Kara said.
According to Kara, having her dad as a professor at Liberty has been "amazing." She said that she finds him a couple times throughout the week to catch up and talk.
"I love having my dad as a professor," Kara said. "I love having students tell me how great he is and how impactful he is with his teaching, because to be a professor here is his passion, and his passion is to make a difference in his students' lives."
David said that he cannot express how proud he is of his daughter and how she is letting God use her.
"She'll come in between classes … and give me a hug," David said. "It means the world to me to watch her and to watch the kind of young woman she's become (and) how God's used her to encourage and influence others."
Knowing that his daughter has been able to gain knowledge from the professors and pastors that she has listened to throughout her years at Liberty, David said that he has watched how she has grown and how she encourages and influences those around her.
"I think Kara really represents what it means to be a champion for Christ," David said. "She takes advantage of the things they have here. She loves it. She pushes it, you know, to the degree of stretching herself and doing all those things. She's been relational. She's grown in amazing ways. She could easily be a walking testimonial of what Liberty's all about."
Attributing where she is today to her family, Kara said that she has overcome challenges by knowing that her family was by her side every step of the way. She said that without them, especially her mother, she would not have been able to accomplish everything she has. She also said that reading her Bible and working on her relationship with God on a daily basis has gotten her through the hardest times.
"Just have those people in your life, especially your family, to support you and just help you through it," Kara said. "It's the most encouraging, especially, to have that relationship with Christ. To be like, 'Alright God, today is hard, but with you, nothing is impossible, with you, everything is possible.'