Styling at school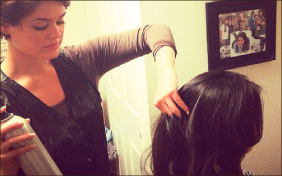 Setting up her cosmetology supplies in an empty corner of her room, Liberty University freshman Ashley Archulet put away her schoolbooks and opened her dorm for business as a hair salon. Before transferring to Liberty in the spring, Archulet was given the chance to compete nationally at the SkillsUSA National Leadership and Skills Conference June 20, 2011, putting her cosmetology training to the test.
"There were so many different things going on," Archulet said. "It was so cool."
Each competitor at the conference completed a long hair updo, a woman's design and haircut, and a man's design and haircut. The competition lasted seven hours, requiring students to complete a written and oral test along with spread sheets for long hair color. According to Archulet, she ranked 22, heading to Liberty with a cosmetology license and many hours of practice.
According to Archulet, her passion developed in high school. She began by working with makeup, giving her friends makeovers for proms, special occasions or weddings before moving on to explore with creative dimensions through hair coloring and cuts.
"A lot of my classmates would tell me, 'You're really good at this, you should do cosmetology,'" Archulet said.
According to Archulet, she was certified in cosmetology through a two-year class offered at her high school, which is where she was taught the art of hair care.
"I went ahead and learned more about hair, and that's when I fell in love with it," Archulet said. "I just wanted to do hair."
Archulet's passion continued at Liberty, where she followed her dreams through the opening of her personal business.
"I love it here," Archulet said. "I feel super productive. It's nice being on a set schedule."
Although Archulet plans to pursue a future career in dermatology or plastic surgery, her passion for cosmetology did not end in high school. Currently, Archulet runs her own salon out of her dorm, offering students special prices on hair care along with hot tea or coffee while they are visiting.
"It would be awesome to have a client base," Archulet said. "If I go to grad school, I could take the clients with me."
Archulet plans to continue her personal salon for her remaining time at Liberty. According to Archulet, spending time with different clients over the years through her business and during her time working with City Light Hair Studio located in Fredericksburg, Va. has given her the opportunity to minister to clients.
"It's a fantastic and creative ministry," Liberty student Rachel Barnes said. "We are all called to minister in everything we do, and she makes hairdressing her ministry. I would definitely keep her as a hairdresser and recommend her to anyone who wants an awesome hair cut and style. She's very professional, she's encouraging and she's great to be around."
Currently, Archulet's prices begin at $20 for haircuts with color treatments starting at $50. Soon, those prices will be cut dramatically for students, allowing them to get salon treatment while staying on campus.
"I don't even care if I don't make money right now. I just want to get my name out there," Archulet said.
According to Archulet, she is very willing to work around students' busy schedules, planning appointments when it is most convenient for them. For more information, or to schedule an appointment, contact Archulet at 540-656-6145.