PRSSA hosts 'Under PRessure'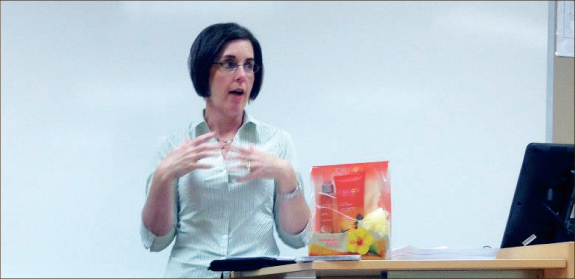 Public Relations club discusses crisis communications with Amy Whittaker from the American Red Cross
Liberty University's Public Relations Student Society of America (PRSSA) hosted "Under PRessure," an event focusing on crisis communications for different scenarios. Amy Whittaker, Public Relations Director for the Roanoke Valley chapter of the American Red Cross, spoke to members of the campus club Thursday, April 11.
During the workshop, Whittaker spoke about the importance of communicating effectively during a crisis — not only with the victims of disaster, but to the media as well.
"We don't necessarily talk to people, we talk through the media to people, so media relationships are a vital part of what we do," Whittaker said. "Reporters call the Red Cross to find out the plan of action for crisis, so we develop relationships with the reporters."
Whittaker stressed the importance of using social media effectively because of its easy accessibility during a crisis.
"Preparedness is key for crisis. You can never prepare too much. When one is over, prepare for the next," Whittaker said. "There will always be a crisis in some form, because disasters strike anytime, anywhere and to anyone."
According to PRSSA President Kristen Gorsuch, the information and experience that Whittaker shared about crisis communication was beneficial to PRSSA members, especially for the seniors about to enter into the field of public relations in just over a month.
"Amy helped me realize the importance of planning for a crisis ahead of time, as opposed to just reacting to the situation when it comes," Gorsuch said. "I'm realizing more and more the importance of preparation."
Whittaker ended the night encouraging students to know what they will do in the event of a crisis and to stay focused on the tasks at hand.
"After a crisis, look back and evaluate what went well and what didn't work as well, and make sure you debrief and set goals for the next crisis," Whittaker said.