Professor leads by example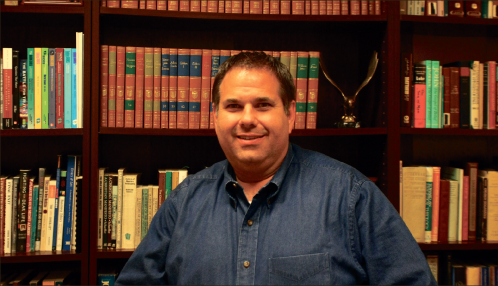 Professor and Director of Christian Community Service Lew Weider is one of the many dedicated faculty members seeking to bring others to Christ.
As a child in Alliance, Ohio, Weider grew up in a moderately Christian home, with parents who cared deeply about the things of God, but did not always practice them in their personal lives. Born into a hard-working family, Weider's parents struggled to get by, but worked hard and taught their children to do the same.
According to Weider, he attended Beechwood United Methodist Church, where he heard the Gospel for the first time at 9 years old and accepted Jesus as his savior.
There was never any question whether he was going to college or not, but he knew that he would have to work for it.
"(My) parents wanted all five of us children to be successful," Weider said.
While Weider searched for colleges to attend, Moses Yoder, the associate pastor of Alliance Baptist Temple, recommended Liberty Baptist College (LBC). After visiting LBC, Weider found that this was the place God wanted him to be.
"This has been a wonderful experience, coming to Lynchburg and Liberty," Weider said.
Weider said that his initial plan was to earn a pastoral degree to prepare for full-time ministry.
During his time at Liberty, Weider volunteered for a Super Conference, hosted by Thomas Road Baptist Church (TRBC). The event is now known as the Innovate Church Conference.
During the conference, he met the late Dr. Jerry Falwell Sr. for the first time. Weider was working under Dennis Fields Sr., who was heading the conference and introduced Weider as a conference volunteer and new student of Liberty.
"I'll never forget it," Weider said. "Jerry shook my hand and reached to his collar, in which he had a gold 'Jesus First' pin on, and (he) took it off and gave it to me as a thank you. What an impact that made on me as a young Christian, and I was sold on helping out in any way I could."
Weider continued volunteering for Christian service (CSER) for his next four years, also working as a teacher's assistant. During summers, he preached at churches or participated in church plants.
Upon graduation, Weider and his wife visited Nashua, N.H. to consider planting a church. While he was there, he did not see a need, since many other churches were being planted at the time. After returning home to Lynchburg disappointed, he got a call from his former boss, Dennis Fields Sr., offering him a job to teach at Liberty.
"At that moment, I had complete peace," Weider said.
After accepting the position, Weider received his license as a minister at TRBC and became a campus pastor. He has been on faculty/staff for 28 years.
Along with teaching and being director of CSER, Weider is also faculty advisor for Circle K, the largest collegiate service organization worldwide, according to circlek.org.
Greatly involved in TRBC, Weider is chairman of the Deacon Board. Weider has also been the pastor for the Home Builder's life group, and an adult Sunday school class for the last 20 years.
"If God will call me, I will go tomorrow," Weider said. "I've surrendered all. Tomorrow is in the Lord's hands."
Weider said that he is very blessed to be here at Liberty and will even drive around campus on occasion, just because he is thrilled to be here and see what God is doing.