New plans for islands announced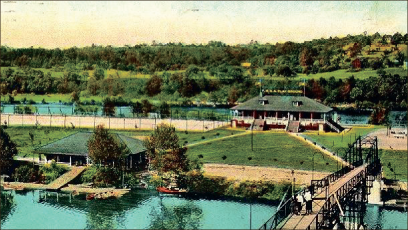 Liberty aims to develop a park for the Lynchburg community on the James River
Liberty University has announced plans to construct an athletic park on its abandoned Treasure and Daniel Islands in the James River near downtown Lynchburg.
According to Lee Beaumont, Liberty's vice president for Auxiliary Services, one of the park's major services will be to provide recreational and organized athletic opportunities for the Lynchburg community.
"We already have enough recreational and National Collegiate Athletic Association (NCAA) facilities to accommodate our needs at this stage in the growth plan," Beaumont said. "This is about getting our students out into the community and being a good neighbor."
Beaumont noted that the plan for the islands is still in the early stages of development, but it currently includes a new access bridge that will have a road and sidewalks, portable bathrooms and about 19 multi-purpose athletic fields. The fields will be open to the public for recreation when Liberty students are not using them and will provide opportunities for students to develop and pursue ministry opportunities at the park, as well as creating more student jobs.
In addition to recreational play, Beaumont said that he hopes the park will provide facilities for local schools and organized leagues.
According to him, Lynchburg schools and local colleges are in need of athletic fields, and he believes the new park will help fulfill that need.
Beaumont also said that the new facility may be used for hosting events.
"We're thinking of possibly bringing in traveling team tournaments during the weekend to generate some revenue as well," Beaumont said. "When you bring guests into town, it's good for the local economy. They sleep in your hotels, eat at your restaurants and spend money at your businesses."
According to Beaumont, plans are also being discussed for a garden on one of the islands. Members of the community will likely be able to rent out plots of land and grow the plants of their choice.
"I grew up on a farm, so I'm really excited about the community garden," Beaumont said. "I think gardening is kind of a lost art."
Along with possible athletic fields and garden, Beaumont noted that the islands may also provide an access point to the river for Liberty's crew team and for other local crew teams. According to Beaumont, high schools in the Lynchburg area lack the facilities needed to put teams on the water, so a launch-point on the islands would allow students to row for their school for the first time.
Beaumont said the crew facility would also provide an improvement for Liberty's crew team. Racing in the James River would allow Liberty to host long course races instead of short course regattas at its current location, Ivy Lake.
According to Beaumont, a bridge will have to be built to the islands before any further construction can begin. The university will likely develop Treasure Island before building facilities on nearby Daniel Island.
Treasure Island once served as a location for Liberty's football training facilities, several dormitories and a summer camp, Beaumont said. The island was used mainly for camping and fishing after the James River flooded the location in 1985.
"There's still football pads in an old building on the island and a car is in the swimming pool," Beaumont said.
Beaumont also mentioned that revitalizing the islands is something Chancellor Jerry Falwell Jr. has been planning to do for a long time. He came to Beaumont with the idea for the new athletic park, and the new plan will be going into effect soon.