Health missions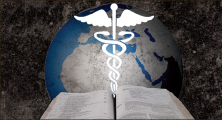 Richard Lane, the founder and director of the master's of public health program, began working at Liberty University as a director of public services in order to continue Liberty's mission to train champions for Christ.
In 1995, Lane had the opportunity to work with Campus Crusades for Christ in order to help develop an AIDS prevention program. Lane has been teaching undergraduate students for 24 years and is now teaching at the graduate level.
"I decided to become a professor because I knew I could instill within students my mission to change the world," Lane said.
Lane first met the late Dr. Jerry Falwell Sr. in New Orleans in 1985. According to Lane, Falwell thought that public health would be a great way to reach populations and do mission work. Now, Lane puts that thought into practice by working overseas.
According to Lane, Campus Crusades for Christ began in Honduras, and since 1995, it has spread to 50 different countries around the world.
In March, Lane went on a trip to Trinidad to lecture about AIDS prevention, where he taught several health professionals and teachers about how to assess character development.
"The philosophy is that AIDS is a behavioral-driven disease," Lane said. "If you avoid certain behaviors, you will not come in contact with the virus, and you will not the get the disease."
Lane has not only been able to nationalize his whole program in the country of Trinidad, but he has also been able to spread it to Barbados, Ghana and Jamaica.
"Whenever I attend these conferences, I always share the Gospel and the great things happening at Liberty University," Lane said.
Several of the health professionals that Lane taught while in Trinidad have agreed to serve as mentors to the public health students. Students will research the effectiveness of educational process to decrease risky behaviors as well as other HIV/AIDS projects of importance in the Caribbean region.
The public health graduate program began at Liberty a year and a half ago. The nine graduating students are participating in practicums in Korea, Florida, Tennessee, Philadelphia, Virginia and Florida.
According to Lane, the practicum students in the public health graduate program are already changing the world while still attending Liberty.
"I see us becoming worldwide in our impact," Lane said. "I would like to see our students graduate from this program and be on every continent, and perhaps in every country, providing public health assistant to countries in need."
When Lane first came to Liberty, there were only 3,000 students, and he knew every faculty member by name. However, the university has grown considerably since then.
"My mission statement is embracing a Christian worldview to reach the undeserved through public health training and practice so that others can experience the embrace of God," Lane said.
Currently, the program has 33 residential students, and 600 committed online students. Nine of the students are set to graduate in May. According to Lane, he is excited for the future when his students will be able to truly change the world.