FBI comes to Liberty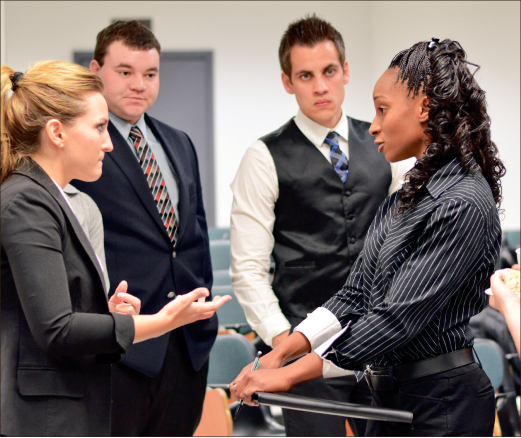 "One minute you can be doing financial analyst work, and the next second you can be pulled into another office to help with a murder investigation or drug investigation, which is what happened to me," Cara Kast said.
Kast made an appearance at Liberty Wednesday night, April 25 in DeMoss Hall room 1113 to talk to students about what the FBI is really like. According to Kast, she has worked for the FBI for two years doing multiple things, and is currently working towards becoming a field agent.
Almost 50 students gathered to listen to Kast and her stories on what it has been like for her in the FBI.
"You are never bored — things change very quickly," Kast said.
"So what do we actually do? Well we protect the United States from terrorist attacks, from foreign intelligence operations and espionage. We protect the United States against cyber based attacks and high technology crimes, we combat public corruption and we protect civil rights," Kast said.
"A really cool thing about the FBI, if you are interested, is that you can basically work overseas all your career if you want to move around to different countries," Kast said.
According to Kast, applicants must be willing to move around the country wherever the FBI may need them to go. Employees of the FBI may be called into many different operations very quickly.
"There are over 36,000 employees (in the FBI), which includes 13,000 — almost 14,000 — special agents and 22,000 support professionals," Kast said.
"It is a very, very competitive field," Kast said. Typically when you apply, there are about 26,000 other applicants, and that's just for Washington, D.C."
According to Kast, the tests applicants go through to be considered at the FBI are extensive and difficult. Applicants must be tested in front of a panel of judges before being approved to complete a four-hour test.
Lie detector tests, as well as other mental tests, must be taken during the training process. Applicants are also required to take a physical fitness test, which is very difficult, according to Kast.
Kast offered some insight into what exactly she does toward the end of her lecture.
"My family finds it hilarious that I work for the FBI, because they tease me about being blond," Kast said. "My brother made this picture for me saying I pretend to work for the FBI, when I am really just a gift store worker."
Kast enjoyed joking about her job, but she also noted that her role at the FBI is a serious one.
"I work for the financial resources unit at the training academy. My responsibilities include financial strategy planning, which means, basically, I am not going to tell you what I do," Kast said.
Kast told students that she knew she wanted to go into the FBI even before choosing her major.
"I have wanted to be an FBI special agent since I was four or five years old," Kast said. "The first book that my mom gave me was called 'The Spy Wore Red,' so I was always very interested in that kind of world, but what really drew me into the FBI is the fact that it is an agency where people really try to help other people.
In addition to sharing her passion for the FBI, Kast also talked about Liberty.
"I love Liberty students, and I really believe there are students … that could help the agency one day," Kast said.