FACS majors unveil cooking skills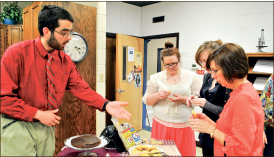 The Family and Consumer Sciences (FACS) Department hosted a Food Science Fair, Wednesday, April 24, where students cooked and showcased a variety of dishes.
"The students have been working on this for three weeks, and it was a success because the students enjoyed telling other people what they learned," Professor Linda Kitchel, who led the event, said.
According to Kitchel, she has been teaching at Liberty University for nine years. Kitchel teaches cooking classes and FACS education classes. She also supervises current FACS student teachers.
The event was a walk-through where free food that students prepared was put on display. Guests had the opportunity to visit four different stations where students introduced their foods and discussed the ingredients.
The "Old-Fashioned Meetballs" station had turkey, beef and pork meatballs prepared by Rachel Robbins and Tori Brock.
"It was really good," Jonathan Holmes, a junior psychology major, said. "I've never tasted meatballs like that before."
Another station called "Can You Taste a Difference?" by Ashley Rutherford and Bailee Palmer held a variety of cookies. Instead of using granulated sugar, the cookies were made with honey and maple syrup.
"There are healthy benefits in maple syrup and honey, such as vitamins and minerals, that you don't get, obviously, with a chemically manufactured sugar," Palmer said
The third station was called "Do You Know The Muffin Man … and his SECRETS?" and included three variations of muffins made by Alyssa Oliver.
"I'm trying to give people options if they don't have a certain leavening agent that their muffin recipe is calling for," Oliver said. "Most muffin recipes called for baking powder, so instead I have also used vinegar and baking soda as a replacement."
Last but not least, there was a "Gluten-Free" station that included chocolate cake, cornbread and cheddar cheese rosemary biscuits by Charles Furman.
"For my project, I have decided to go with a gluten-free route for people who have … celiac disease," Furman said. All who came to the fair were welcomed to take recipes so they could make the foods themselves.
"I think it's great, and I like that they had recipes to give out," junior Amanda Prater said.
Kitchel, who earned her Bachelors of Science from Radford University and her master's in education from North Carolina State, explained why she became a part of FACS.
"Because it was family based and that's where I am with life," Kitchel said. "Everything revolves around the family. The family is the core. It is the institution God created, and it is the core of everything we do."
According to Kitchel, all students wishing to learn about the culinary arts are welcome to sign up for the basic cooking class, FACS 130