Alumnus publishes novel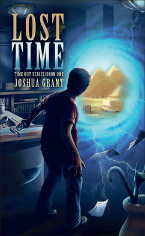 Joshua Grant makes his writing debut with biblical-themed "Lost Time"
For many college graduates, focusing on one career and job is enough stress without taking on the feat of writing and publishing a novel.
Joshua Grant, an alumnus from Liberty University with a degree in intercultural studies, published his first book in March entitled "Lost Time," a story that follows the adventures of a young man who uses a time portal to witness and take part in different stories from the Bible.
Adam Johnson, the main character of the story, journeys through the Old Testament, interacting with God in the Garden of Eden, Noah during the flood, Job during his time of suffering. Through speaking with different biblical characters and witnessing their faith, Adam grows closer to God. Readers are able to witness the development of Adam's faith throughout the course of the book.
"When I chose the biblical characters, I didn't just choose the ones that seem interesting," Grant said. "I chose the ones that I wanted to teach a different quality or a different aspect that would help the main character become a better person. Through the book, I wanted to show that, (even though) a lot of these characters from the Bible (are characters that) Christians have a high opinion of … they all had their problems, even some pretty major ones."
Writing for a young adult audience, Grant said that he wanted to portray the Bible accurately, without taking away from the grim situations that people found themselves in throughout the Old Testament.
"I didn't go overboard with R-rated movie descriptions, but I wanted to not take away from the Bible because I feel like if you don't talk and you don't show the bad parts, then it takes away the meaning for Jesus forgiving our sins," Grant said. "I used (these situations) to shape (the main character) and shape his thought process."
Grant began his writing process in 2004 before life got in the way, causing him to put his writing on hold until September 2012. Originally just one book, Grant said that he decided he wanted to expand and continue writing through two books.
Through knowledge obtained in church and other outside research, Grant said that he was able to accurately portray the different stories from the Bible.
"I tried to use some of my research to elaborate and give details to things," Grant said. "Who knows how it might have happened? There's no way to know for certain things, but I tried to do as much historical research as I could, and biblical research, to give accurate elaboration to different parts of my story."
Writing the book was only the beginning of the process for Grant. After sending his work to different editors, Grant self-published his book through amazon.com and hired a professional graphic design artist to create the cover art.
"I had gotten a couple of offers from publishers," Grant said. "However, I realized that I got a better offer through self-publishing. I purposely did not choose the publishers. I chose self-publishing."
Grant said that his favorite part of writing his book was the part on Job. Growing up in a poor household, Grant endured hardships that allowed him to connect with Job. Grant also said that Christians need to follow Job's example of staying close to God throughout his trials.
"That's another thing that I want to convey through my book," Grant said. "No matter the problems that come in life, we can never afford as Christians to deny God, because that's what Satan wants us to do. He wants us to deny God. And just like with Job, he'll keep attacking us until we do, but we can't give in."
Already thinking about his second book, Grant said that he will begin writing shortly and will hopefully have it published by this time next year. Continuing Adam Johnson's travel through time, Grant will expand on issues that he wrote about in the first book.
"There will be a surprise ending in the second book, something that people will not expect," Grant said. "There's going to be little hints and things that I drop in the first and second book that point to that. Even from the first chapter, I put something in there."
Grant said that he hopes people will realize his writing ability is not his own. Grant wants people to get more out of his book than just an entertaining read.
"God gave me this chance to publish a book," Grant said. "I think whenever anyone has something good happen in their life or they have a gift they use in some way, they should never take the credit for themselves. The only way that I could write this book and publish it is because God gave me the ability. I didn't do that by myself. I also want people to think in that way about their own gifts, however they use them."
For more information about Grant and his book, visit his website at joshuagrantbooks.com.