Airport tower still open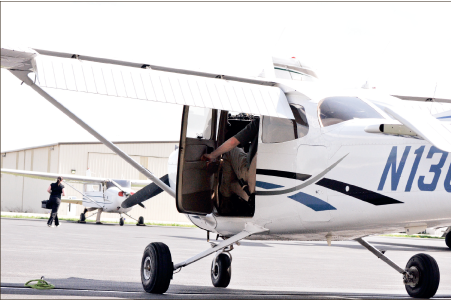 The Lynchburg airport control center will remain in use for another year
Lynchburg Airport Director Mark Courtney plans to use saved state entitlement money to fund air traffic control tower (ATCT) operations for the near future.
According to Courtney's ATCT Interim Phase Plan presented to the Virginia Aviation Board (VAB), estimated monthly expenses will total around $40,000, but the airport has nearly $622,000 saved up in its entitlement fund. Lynchburg Airport has also imposed an FAA-approved passenger facility charge generating roughly $25,000 per month.
In addition, the airport has added more flights for family and friends that will be traveling to Lynchburg in May to see students participate in Liberty University's commencement ceremonies. Airport personnel hopes that the additional flights will also provide more funding.
"The airport management is exploring reducing the number of hours the ATCT will operate, thus reducing the operating cost," VAB member and retired Air Force Brig. Gen. Dave Young said. "This will, in turn, spread the available funds over a longer period of time. The airport management indicated that this time could be up to 12 months."
Because Virginia State Entitlement funds are not meant for uses like ATCT operation, a fee will be invoked by the Commonwealth of Virginia, according to Young. Seven of the eight VAB members voted to not waive the penalty out of fairness to the other 65 airports in Virginia. Young withheld from voting.
"I abstained after conferring with the legal counsel for the Virginia Aviation Board, as it could be viewed as a conflict of interest since I'm the dean of the (Liberty University) School of Aeronautics and the president of Freedom Aviation," Young said. "Both of these entities conduct extensive business on the airport and significantly interact with the ATCT on a regular basis."
Young said that he believes Courtney's plan is a temporary measure to continue operations while other options are identified and analyzed.
"I've encouraged the airport management to not 'put all of their eggs in one basket' and count on the ATCT to be funded by the FAA or federal government in the future, but to include users of the ATCT, like the (Liberty University) School of Aeronautics and Freedom Aviation, in the planning and analysis of options for continuing to provide similar services currently provided by the ATCT," Young said.