SAO moves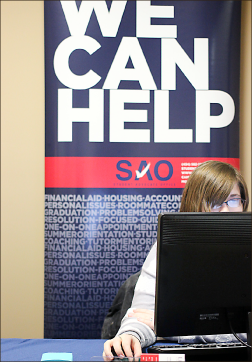 Office now in DeMoss
The Student Advocate Office (SAO) hopes that its new home in DeMoss Hall will help increase the office's ability to meet student needs.
Once located in Green Hall, the office recently made the move to DeMoss 2247, which is located between the computer lab and the grand lobby. According to Justin Mercer, director of retention and orientation of the SAO, the new location is much more accessible for students.
The SAO consists of six student advocates: Timi Plyter, Leigh Detzel, Christina Nolton, Michael Morrison, Katie Moore and Tanner Hoyt.
According to their website, the role of these student advocates is to help students solve problems ranging anywhere from finding scholarships and resolving financial issues to encouragement and prayer time.
According to the student advocates, in addition to the daily responsibilities of answering student questions, they take time to personally call students to remind them of deadlines, help them keep track of their records, and also see how students are handling the semester.
Mercer said that before the move, the SAO shared offices with LU Online, Graduate Admissions, Resident Admissions and International Admissions, along with other offices.
According to Mercer, being located on the 2nd floor of Green Hall was out of the way for students, and that the SAO wanted to be closer to students.
"They're happy to have their own spot, and you can tell the sense of ownership (they have), and everyone is so gleeful – and (this) also helps boost morale and camaraderie amongst the staff," Mercer said.
Mercer also praised his staff for going above and beyond what their jobs require of them. He believes that he is blessed to have such a great staff because, without them, his position would be nothing.
Mercer and Assistant Director of the SAO Joshua Haley work side-by-side with the staff to help students. They come alongside students to make sure that their time at Liberty is a positive experience and help them solve any problems they may have.
"My favorite part of this job is helping students overcome what seem to be impossible situations," Haley said.
According to the SAO website, their main goal is to cater to the needs of students from the first day they walk onto Liberty's campus as freshmen, until the day they stroll down the aisle to get their diploma.
"We want to make sure that when (students) are here, they stay, and get the most out of this amazing educational opportunity," Detzel said.
In addition to making sure students are where they need to be with their education, advocates deal with the individual issues of students that can disrupt their college experience, according to the SAO website. The advocates also show outstanding willingness to lend a hand.
"Whether it be personal, academic or spiritual, I try to put my best foot forward in solving these issues," Morrison said.
"There's no strings attached — we just care," Mercer said.
Mercer also encouraged students to just walk in because the doors are always open.
The SAO hosts Scholarship Search 101 sessions, which will take place Tuesday, March 19 and Tuesday, April 16 from 6-7 p.m., to further assist students with tips on successfully finding scholarships online.
For more information on signing up for one of these events, visit the SAO homepage at liberty.edu.