Renowned broadcaster visits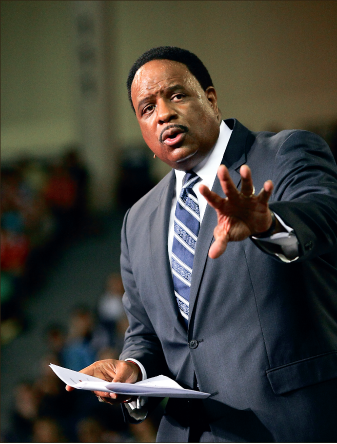 James Brown, host of THE NFL Today on CBS, spoke in Convocation Monday, March 25
Three-time Emmy winner and renowned sports broadcaster James Brown addressed students about the keys to success in the corporate world during Convocation service Monday, March 25.
Brown stressed that mastering the fundamentals of life was a lesson that made him the man he is.
A former basketball standout at Harvard University, Brown went from falling short of his childhood dream of playing professional basketball to working at the printing company Xerox before becoming the sports broadcaster that the country has come to know and love.
During his time at Xerox, a company executive gave a speech that Brown said had a huge impact on his outlook. The speech, entitled "The Objective and Subjective Criteria for Success in Corporate America," inspired Brown to create his own list of fundamentals, each of which he put his own spin on.
"I tied seven fundamentals to a scriptural foundation because I grew to understand that ultimately, success in life didn't necessarily mean there was going to be eternal success," Brown said.
Brown's list of fundamentals ranged from dressing like a professional to being on time, a characteristic that Brown readily admitted he still struggles with.
Between each topic, Brown made sure to include comical stories from his career, from showing up to an interview with a plaid blue suit and velvet bowtie to his first encounter with his former co-host and cultural opposite Terry Bradshaw.
For students reaching the end of their academic career, Brown's speech was particularly encouraging and entertaining.
"I grew up watching him on television, both with FOX and CBS, so it was a real thrill to get to hear him in person," Liberty senior Kyle Harvey said. "I think he succeeded today in doing what he said he does with sportscasting — that is, sugarcoating the education pill."
At the end of Convocation, Brown had a short question-and-answer time with Chancellor Jerry Falwell Jr.
When asked if there seemed to be an increasing number of Christian athletes in sports, Brown cited Tim Tebow and Tony Dungy as examples of strong Christians on the athletic field. Brown believes that if Christians display godly principles in the workplace, they can leave an impression that truly makes a difference.
"There's no question that athletes are in tune, when they see someone being successful doing something different, to see if there is a competitive edge," Brown said. "You can show them there is no better competitive edge than walking the walk."
Brown aimed to leave students with the confidence that, through the principles of Jesus Christ, they could find success in a world that seems to be growing more politically correct by the day.
"God's people can be the most successful doing it the right way," Brown said. "Well done is better than well said."