Post office connections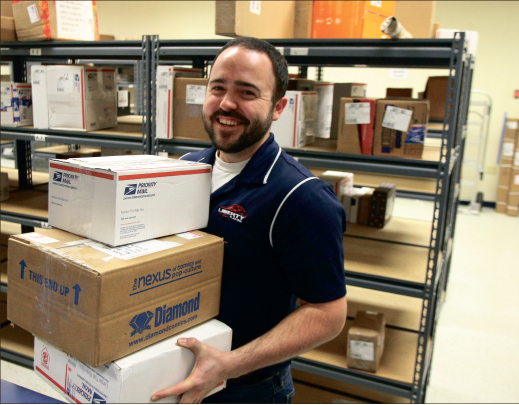 Will Luper allows his people skills to translate to customer service skills
For the outside observer, working at the Liberty University Post Office (LUPO) might appear like a monotonous job of swiping Flames Passes, lugging packages to the counter and scanning box after box while also dealing with the frustrations of damaged or missing items.
For Will Luper, an LUPO employee, this is not the case. Arriving at work at 6:45 a.m. two or three times a week and sorting through packages is just the beginning. Luper uses what may seem like uninteresting and repetitive work as a way to do what he truly loves.
Luper, who graduated with a degree in communications from Liberty in 2008, said that the best part of his day is communicating with students.
"We have some students that come in pretty regularly, and we can recognize them and talk to them, and it's fun," Luper said. "I've had a couple of our students bring food and presents because we have a good rapport with our regulars."
After sorting through more than 400 packages each day, Luper said that his curiosity sometimes gets the better of him. Interesting packages such as bananas, coconuts and even a single flip-flop with a message that its counterpart will soon follow are not in short supply.
"If you order something internationally, they have to put what is in the package for customs," Luper said. "(One package) came in, and it said 'Cigarette Case,' and I laughed and said (to the student), 'Hey man, just so you know — that's on (the package), but I don't know what you're using it for."
Dealing with interesting packages is just one aspect of Luper's job. Other aspects are not as humorous for the employees, or for the students.
"The most frustrating thing is when the United States Postal Service messes up, or when UPS messes up or FedEx messes up," Luper said. "We are obviously the face that people talk to, so we deal with a lot of frustration."
When circumstances like damaged or missing packages occur, Luper said that he understands that students are not mad at him personally. He has learned to let things like that roll off his back.
"If somebody's mad, personally, I like to explain stuff and make sure they understand what's going on," Luper said. "My goal is to make sure that people will leave here understanding what's going on, not having questions about stuff and being satisfied with the way things are going and also knowing that we're going to work as hard as we can to get it to them as soon as it's here."
Freshman Christina Campbell-Brunson has experienced Luper's friendly manner despite the frustration of a delayed package.
"He's really nice," Campbell-Brunson said. "He asks how your day is. If you go a bunch of times, sometimes he'll remember your name. To deal with that many people, especially around holiday times, and to be able to remember faces and names is pretty cool."
Campbell-Brunson visited LUPO multiple times over the past few weeks in search of her package and said that she was received with kindness each time.
"They're really understanding and really nice about it," Campbell-Brunson said. "I was actually skeptical (about) going back all the time without getting an email. I thought they'd get annoyed, but … they were really understanding."
Luper said that his pleasant attitude and mentality comes from knowing that there are unfriendly people that students have to deal with, and he does not wish to be one of them.
"If I go someplace, I want to be treated nicely," Luper said. "I don't want to be another grumpy face. Most of the time, everyone is really nice, so I'll smile … and try to make conversation."
According to Luper, his personal approach to the job has made all the difference.