From the Box: The Tebow top 10 list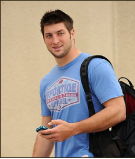 Well everyone, it is finally here. The moment we have all been waiting for is nearly upon us: Tim Tebow arrives Friday, March 8. That being said, the Liberty Champion sports desk has compiled a short list of the things we are pretty sure could happen at the long-anticipated Convocation.
1. Home-schooler's revenge — For all those loud and proud home-schoolers out there, your lifetime of getting picked on ends today. Tebow will probably say something along the lines of, "Who here was homeschooled — (with thumbs pointed back towards himself) this guy."
2. Girls will have Scripture written on their face in eye black. Better still (or worse) — guys will too.
3. Girls will be waiting outside the Vines Center for Convocation — on Thursday.
4. Tim Tebow will not say anything noteworthy for the first 20 minutes or so, but in the last four minutes, he will come back and cement his place in Convocation history with an inspiring story that ties together the Gospel, the pro-life movement, international missions and relationships in a nice, repeatable quote.
5. Inevitably, because Tebow played in the SEC, Alabama fans will find a way to be obnoxious either with chants or signs — most likely both. Really, 'Tide fans? Really?
6. Tim Tebow will pull a "Mike Huckabee" and join the campus band. We already know via his NFL "Mic'd Up" segment that he is an enthusiastic singer.
7. Liberty will make it into Twitter's trending topics for the second time in three months (the first being Christmas Coffeehouse) with all the Liberty-Tebow related hash tags sure to explode during his speech.
8. Tim Tebow will "Tebow" on stage — to roaring applause.
9. During what will be an otherwise eloquently delivered introduction, Johnnie Moore will mistakenly refer to Tebow's accomplishments "both on and off the football court."
10. The Tim Tebow Convocation will, without a doubt, become the highest attended Friday-before-Spring-Break-Convocation ever.