First lady is finding her footing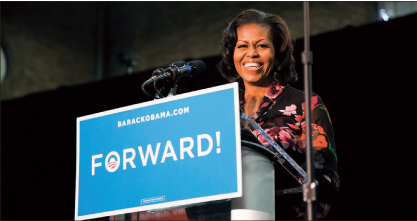 Over time, Michelle Obama has adapted to being evaluated under the political microscope by people around the world
President Barack Obama's second term began in national controversy, not the least of which was his wife's dramatic haircut. From bangs to presenting the "Best Picture" Academy Award, Michelle Obama has begun her second term as first lady with abandon.
Pretending that Michelle Obama's audacious actions are irrelevant is naïve. Carl Sferrazza Anthony, a historian for the National First Ladies Library, told USA Today in 2008 that the role of first lady says as much about America as it says about those who have inhabited the role. According to Anthony, America "locks these women in a china closet." The approach Michelle Obama takes toward her responsibilities sparks dialogue concerning the role of a woman from the White House to houses across the nation.
Michelle Obama did not readily embrace her title. As her husband prepared for the presidency, she delayed moving her children to the White House. In her 2012 Democratic National Convention speech, Michelle Obama explained that her primary concern was for her children's well-being. Furthermore, Liza Mundy, who wrote a biography on the first lady, said that Michelle Obama did not have much faith in politics, either.
Being first lady might, in some respects, be more difficult than being president, because the role of the "first lady" is not defined by the U.S. Constitution. For a career woman who is also wife and mother, crafting her own role in a precarious political climate must be daunting.
Michelle Obama quickly transitioned her background in community development to the national level by implementing "Let's Move!" — her campaign to fight child obesity through healthy eating and exercise. Similar to Laura Bush's initiatives to further education, "Let's Move!" established Michelle Obama as a concerned mother figure.
Throughout the Obamas' first term, Michelle Obama appeared on shows such as "Sesame Street" and "The View," skyrocketing her social appeal. She used the spotlight to champion "Let's Move!" — but appearances such as the cover of Vogue made her more of a cultural figure than a political icon.
Amidst critics of her personable approach to being first lady, Michelle Obama stepped into the cameras on inauguration day 2013 with bold new bangs and wearing more of her favorite J.Crew and Jason Wu. Her fearless look fit with the "Forward" message of the campaign, and her demand for progress gave her audience the impression that she was ready to work.
Michelle Obama traded Twitter game faces with Jimmy Fallon before creating the "Evolution of Mom Dancing," which rapidly went viral. While the video shows a casual first lady, it also reinforces her image as a modern mother. More startlingly, she appeared via satellite to announce the "Best Picture" Academy Award. The first lady combined National Governor's Weekend with the biggest event in Hollywood, illustrating her ability to balance the many opportunities that come with being first lady.
Whether you agree with the Obama administration's policies or not, it is easy to understand why Michelle Obama's approval ratings soar. While forerunners like Jackie Kennedy or Hillary Clinton tested a first lady's boundaries politically and socially, Michelle Obama has simply infused her personality and goals into the role. She is smashing the china closet that hides the first lady behind pristine fashion choices, pleasant receptions and lukewarm initiatives. Michelle Obama began her tenure in the White House as a reluctant mother, but will exit it having flung open the door for all wives and mothers who follow her.