COMS students visit D.C.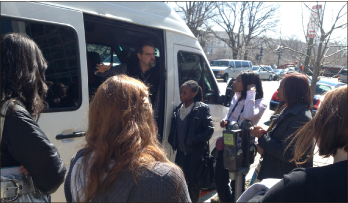 Journalism class experiences media at work on a field trip to the nation's capital
Have you ever wondered what America's very first newspapers looked like? If you are curious, find one of the 30 students who joined Liberty University communications professor Deborah Huff on her trip to Washington Tuesday, March 19 — they could tell you all about it.
The students, most of whom are upperclassmen in Huff's investigative reporting class, made a visit to the Newseum, the Fox News Washington bureau and the Capitol Rayburn Building for a meet and greet with several Liberty alumni now working in various capacities in the D.C. metro area.
The Newseum, which is located on Pennsylvania Avenue with a view of the Capitol Building, is a news junkie's dream. The seven-story building features a variety of exhibits highlighting everything from old newspapers, famous radio and television broadcasts to artifacts from some of the biggest historical events — both in America and abroad.
"It's very unique seeing how newspaper coverage has progressed and changed over time — especially since 9/11," Liberty junior Derrick Battle said.
One of the exhibits was a giant wall of hundreds of headlines and photos published around the world Sept. 12, 2001.
"It just takes me back to my childhood," Battle said. "Reliving those pictures and reliving the moments from that day."
From the Newseum, students bussed over to the Fox News building a few blocks away, where they got a private tour of all the studios and workspaces of America's No. 1-rated cable news network.
Shannon Bream, a Liberty alumna who left a promising career as a lawyer to pursue television, offered words of wisdom about the media business as she conducted a tour of the entire bureau. Bream currently reports on the Supreme Court.
Some students were also able to meet and greet Peter Doocy, a general assignment reporter for the Washington bureau, while others met news anchor Bret Baier.
"It was a great opportunity to be able to tour such a well-known news station," Liberty senior Andrew Woolfolk said.
After their time in the newsroom, the students rendezvoused with a variety of alumni as well Rep. Robert Hurt, who spoke to the students at length about the interplay between politicians and the media.
"I thought it was great that he decided to come down and talk to us about how journalism and politics mesh together," Woolfolk said. "It was cool to get a different perspective on our careers."
Also in attendance was Liberty alumna Kristi Way from the office of House Majority Leader Eric Cantor as well as Alexandria Paolozzi, Caroline Biggs and Alison Howard of the Concerned Women of America. Several other alumni appeared — many of whom are working in congressional offices.
The entire event was orchestrated and planned by Liberty alumnus and Communications Director for the House Committee on Small Business Darrell "DJ" Jordan.
"He pulls together an incredible networking opportunity for our students," Huff said.