Apps for everyone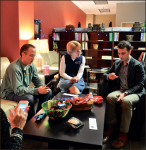 Faculty and students learn new technology
Though technology might isolate human interaction, Liberty University's Center for Teaching Excellence (CTE) has made a point to encourage fellowship by hosting Mobile Applications Learning Lounges (M.A.L.L.).
The purpose of M.A.L.L. is to gather faculty, students and staff together to share their knowledge of the most recent mobile devices and applications, according to Teaching Advisor and Associate Professor of Education for the CTE Shawn Bielicki.
"We don't want (faculty) coming here just for work or help, we want them coming here for some more relaxed things," Bielicki said.
For a lot of people who attend, M.A.L.L. is an opportunity to learn about the newest technology that can be utilized in the classroom.
"(By attending M.A.L.L.), you get a wide perspective from a number of people with different levels of knowledge. Some are different ages, so they like different things, " Electronic Resource Librarian Mike Cobb said. "You get a lot of information to help you learn more about what you just spent your money on."
During each meeting, the CTE provides featured applications for attendees to test on their own devices, Bielicki said.
During the most recent M.A.L.L., held Feb. 27 in DeMoss Hall, the applications "Shazam," "Flipboard" and "The Night Sky" were a few of those featured.
However, according to Bielicki, not everyone came to the gathering to learn about the newest applications.
"I came to figure out what the needs for faculty and staff were in terms of apps," Liberty senior and employee for Liberty's Information Technology department Neal Harmon said. "I think the industry is moving more toward tablets, and we want to develop that into some type of change."
According to Cobb, M.A.L.L. helped him learn more about his own devices, specifically his new smartphone.
"I don't even know what I don't know. Seeing what people do with (mobile devices) and how other people use them gives me ideas on how to use mine," Cobb said.
The CTE will host M.A.L.L. on the last Wednesday of each month during the Spring 2013 semester, according to the center's website.
"I would encourage people to get out of their comfort zone and engage with technology because it can help you with your personal life, scholastic life and … your professional life," Harmon said.
For more information, visit liberty.edu/academics/cte.