'All My Sons' premieres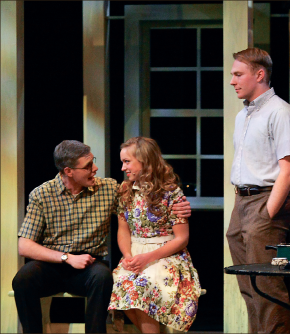 Liberty's cast depicts subtle themes in a play dedicated to veterans
A storm rolled across the stage of Liberty University's Tower Theater opening night March 1 as the cast prepared to reveal a story riddled with tragic themes.
According to Neal Brasher, the play's director, "All My Sons" is a naturalistic play set in the mid-20th century. The play follows the story of a post-World War II family who deals with the loss of Larry Keller, who is supposedly missing in action.
Kate Keller, the mother of Larry and Chris Keller, struggles through daily life without Larry and with the realization that his previous love has transferred her feelings to Chris.
"The first act is all about covering up those issues and putting on a smile, but in the second and third act, things start getting churned up," Witney Tatum, who played Kate Keller, said.
Joe Keller, the father of Larry, supposedly produced faulty parts for WWII fighter planes — causing the death of many men. The play leaves the audience unsure about the truth of this until the performance's conclusion.
"Jesus talked about loving your neighbor as yourself," Brasher said. "The moral of this play is about human beings all being responsible to each other — that we belong to each other."
According to Brasher, the symbolic actions and lighting effects used in the play are expressionistic. Many of the cast members often refer to a fallen tree displayed on set. The tree holds hidden value, according to Brasher.
"Right after WWII, a lot of families would plant trees in honor of fallen family members," Caleb Towns, who played Chris Keller, said. "The fact that it fell down on this day, and everything was coming out, that's Larry in the show. If we reference that tree, we're thinking about my brother, their son, their lover. He's still a very real part of the show."
The nine-member cast of Liberty students depicts mature themes throughout their performance. According to Tatum, each attending audience's reaction is different and provides the cast with a fresh start.
"I'm really hoping that our work and Brasher's insight … will result in something that is truthful and relatable to people who have experienced something like this," Tatum said.
Some audience members may not sympathize with the feeling of such a tragic family occurrence, but according to Towns, many values can be taken away from this production.
"This is obviously a grand view scale of what dishonesty can do," Towns said. "In small ways, this is what it does every time."
According to Brasher, each production demands approximately 70 hours of preparation from the cast.
"Probably the most gratifying thing is to see the progression of the actors, especially because this is a theater education program," Brasher said. "We have some very good actors in this cast."
Tatum said that she is excited to see the reaction that people like her grandfather, a Korean War veteran, will have to the show.
"People who grew up in that time period, I'm excited to see their reactions," Tatum said.
Brasher has included a note in the program, dedicating the performance to the veterans of World War II and all the members of the armed forces. According to Brasher, that is a message that the cast and crew of "All My Sons" wants to clearly depict.
"All My Sons" will be performed six times, concluding with a performance March 5 at 7:30 p.m.