U.S. Postal Service makes changes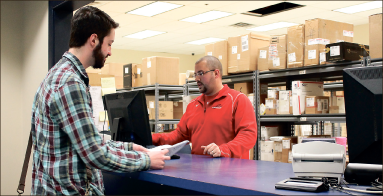 Letter delivery will be cut from six days a week to five days, beginning Aug. 5
The United States Postal Service (USPS) recently decided that it would reduce mail delivery Aug. 5, 2013 to five days a week, cutting Saturday mail. Packages will continue to be delivered six days a week.
Liberty University Postal Services handles packages and letters five days a week, Monday to Friday, according to the Liberty University Postal Service website. Postal specialists are on hand to answer and accommodate the students and faculty with any shipping needs.
"(These changes) should not affect us at all, since we are not open on Saturday anyway," Lisa Worley, Postal Services manager at Liberty, said. "The mail that comes in will just be held just as it is on Fridays over the weekend."
According to Worley, current Liberty mail policy is to send back mail and packages that students do not collect within two weeks.
"It's a shame that parents and grandparents take the time to send students things and we have to simply send it back," Worley said.
Senior nursing major Steph Fortier mentioned her concern for the length of time it takes to receive her packages, some including fresh-baked goods.
"The people are nice and friendly, but it takes a long time for packages from home to make it to the post office. Cookies get stale," Fortier said.
Packages are abandoned at the post office for numerous reasons, according to Worley, but the quantity of items returned to sender is far less than the amount actually received by the students.
"It happens about once a week, depending on the time of the year," Worley said.
Despite hundreds of packages coming and going through the post office, Worley said that there is no need to extend their hours of operation.
"The post office has always been surprisingly quick," Abigail Lindsey, a Liberty senior exercise science major, said. "They ask for my Flames Pass, I sign and leave. I can go in-between classes and pick up my stuff. The post office is that fast."
The post office began accepting Flames Cash for shipping purchases this past fall and has seen an immense increase in shipping supply sales, according to the Liberty website.
"Flames Cash has become the payment of choice," Worley said. "Flames Cash has broken records (for sales increases) since we started accepting it. Before it was Visa, but now Flames Cash is the first choice students use."
According to the USPS website, market research conducted by the Postal Service and independent research by major news organizations indicated that nearly seven out of 10 Americans (70 percent) support the switch to five-day delivery as a way for the Postal Service to reduce costs in its effort to return the organization to financial stability.
While the change in delivery schedule is needed to restore the financial state of the Postal Service, students will continue to receive their mail and packages in a timely manner.