Seniors victorious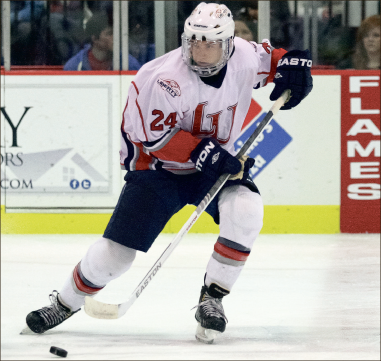 Liberty University's Head Hockey Coach Kirk Handy always wants his team to score first. Winning teams score first. Winning teams put their opponent in a hole quick and keep them pinned down for the entire contest.
After struggling lately in the first period, the Flames got on the board early Saturday Feb. 16, against West Virginia University — really early.
It was only fitting that Liberty's early charge was led by its three seniors, Scott Morongell, Rick Turner and Brent Boschman, who were honored in a pre-game ceremony.
Less than two minutes after the initial faceoff, Morongell deflected Tyson Street's shot in behind West Virginia's goalkeeper to give Liberty an immediate advantage.
"I think we knew we won before we got on the ice," Morongell said. "All of the boys were pretty pumped for senior night. Everybody was going hard for us. It's a pleasure to have everybody buy into a situation like this."
"Us scoring early was key," Handy said. "I find sometimes that it's such a key thing for us, especially to build confidence early."
The Mountaineers rallied to answer and tied the score with 10:40 left in the opening period. But Turner reclaimed the lead for the Flames less than a minute later, slapping in a shot on an assist from Kyle Garcia.
Following Turner's score, Liberty goalkeeper Clayton Brown stood tall against a barrage of shots and preserved his team's one goal lead during back-to-back West Virginia power plays.
After the Flames two penalty kills, Boschman scored on an assist from Ryley Egan with 2:49 left in the period. However, less than 30 seconds later, West Virginia struck back, scoring on a high-traffic play that left Brown in a mangled heap in front of the net. The first period ended with Liberty up 3-2.
Boschman's two goals against the Mountaineers leave him just a couple shy of the century mark for his career — a number he will attempt to eclipse in the postseason.
The second period belonged to Turner. Less than five minutes in, Turner received the puck from Danny Logan on a breakaway. With just the keeper to beat, Turner put the puck in the back of the net to give Liberty a two-goal lead, 4-2.
"After we got the two-goal lead, had a cushion, we just had more energy than them," Boschman said. "We carried that in and had a big second period that sealed the deal."
After the score, Liberty found itself in some foul trouble, but Brown rescued the Flames from a few tight spots in power plays, snaring several brilliant glove stops to give Liberty some needed penalty kills.
About 10 minutes later, Turner completed a hat trick. He snuck his third goal in through a mess of skaters collecting in front of the net. Liberty ended the second period up 5-2.
"I couldn't have done it without my teammates," Turner said. "They set me up with good passes."
Turner's three goals bring his career total to 88.
During the third period, the game was in a constant power play as referees ramped up the number of fouls called against both sides.
"When the score started to get up, (the referee's) calls were more game management calls, trying to keep the game from getting out of line," Handy said.
Luckily for Handy, his team seemed to play nearly as well with only four skaters as it did with five. Liberty continued to punish the visiting Mountaineers in the third period, finishing with an 8-3 victory.
The win provided the Flames with a much needed confidence boost on their way into the national tournament, which will take place the first week of March in Chicago.
The Flames (23-13-2) earned a No. 13 seed for the tournament and will face No. 20 John Carroll University (28-3-1) in their first game.