SAO moves to DeMoss Hall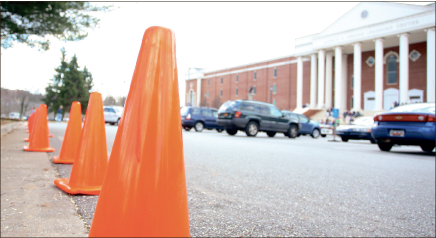 The Student Advocate Office (SAO) will be moving Feb. 19 from Green Hall to the DeMoss Learning Center.
Their new location will be on the second floor between the grand lobby and the computer lab in suite 2247, according to the SAO.
"We decided to move to DeMoss Hall so that we could better assist students," Director of Orientation and Retention Justin Mercer said.
According to Mercer, most of the classes in Green Hall were moved to the third and fourth floors of DeMoss Hall last year.
"We want to be where students are, so this is a natural transition for the (SAO)," Mercer said.
According to Mercer, it was Chancellor Jerry Falwell Jr. and his staff who agreed to the move.
The focus of the SAO is to help each resident student from their first day at Liberty to graduation, according to their website. SAO deals with problem solving, peer counseling, one-on-one appointments, financial aid guidance, scholarship assistance or just a helping hand and listening ear.
The new location is where the International Student's Center used to be, according to Mercer.
"At our current location, the mission has been to help students academically, socially and spiritually so that they can graduate on time and be successful," Mercer said. "At our new location, we will utilize this same mission, but we will be in an area that will make us more available to the student population."
The SAO is presently sharing a suite with Resident Admissions, International and Graduate teams, and Liberty University Online.
"We are very excited. Each member of our office shares a passion to help students be successful," Mercer said. "We can't wait to be in the center of student activity and to have the opportunity to work closely with faculty to help retain students."
The SAO reassures students and helps them remain confident during this important time in their lives.
"College can be confusing, and we want to make sure our students don't get lost in the shuffle. We're a one-stop-shop for helping you get your questions answered," according to the SAO website.
This move has sparked excitement in the team of workers involved with the SAO.
"I think it's fantastic," Assistant Director of Orientation and Retention Joshua Haley said.
According to Haley, he is looking forward to being closer to the students.
"Being directly in the flow of student traffic will not only help retain current students, but it will provide wonderful access to retain the expected larger student body of the future," Mercer said. "I believe that it will provide us the opportunity to be even more intentional in our approach to train champions for Christ."