Raising a song of praise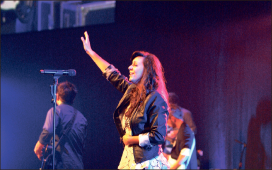 Lauren Sweeney tells her story, from a dream to a reality
"Walking onto the stage for the first convocation of the year brought me to a new place of utter humility that God would choose to use me in this way," Lauren Sweeney, the lead female vocalist on the Liberty University Campus Band, said.
Sweeney, a junior in the worship program, always felt that she was supposed to come to Liberty and be on a ministry team, but this calling took her far longer to accomplish than she had anticipated.
Since high school, Sweeney has always been involved in leading worship with her school and church. When she attended College for a Weekend (CFAW) at Liberty, she realized that she wanted to use the talents God gave her to help transform lives.
"I remember coming to College for a Weekend years ago when I was in high school and sitting in the Vines Center during convocation," Sweeney said. "As I watched the campus band lead thousands and thousands of college students in worship, I thought to myself, 'Lord, that's what I want to do.'"
During her senior year of high school, Sweeney returned to Liberty to try out for a ministry team. However, she did not make it. Instead of attending Liberty that fall, Sweeney enrolled in a local community college in Chesapeake, Va.
Soon after her first audition, Sweeney came back to Liberty for another chance at her calling. Once again, she did not make it.
Craig Osterhus, who works in Liberty's Music Ministries, remembered Sweeney from her auditions. According to Osterhus, each time Sweeney came to try out, she had grown in the talent that God had given her.
"When I saw her audition materials, I was struck by what a gifted worship leader she was," Osterhus said. "There are times when gifted musicians and singers don't get chosen for a team simply because there is no opening at the time for what they have to offer."
According to Sweeney, with some encouragement from her parents, she decided to try out one last time during her sophomore year of community college.
"I remember minutes before the audition, just praying in my heart that if this is where the Lord wanted me, that He would swing the door wide open," Sweeney said. "After the last time auditioning, God opened the door, and I transferred to Liberty to be on the ministry team, Light."
At the end of her first year with Light, Sweeney received a phone call from Justin Kintzel, the Campus Band worship pastor, inviting her to be a part of the Campus Band. According to Sweeney, as she stood on the front steps of DeMoss, she was so overcome with emotion that she began to cry right there.
"It was such a journey to even get to Liberty, and now to have this kind of opportunity was an overwhelming blessing," Sweeney said.
According to Sweeney, although she looks up to all the members of the band, she sees Kintzel as a true mentor.
"He truly loves what he gets to do and sees it as such a privilege," Sweeney said. "He is such a man of God, and it has been a blessing to serve this school alongside him."
Sweeney also sees being a part of Campus Band as an honor.
"When we are in convocation and there are thousands and thousands of college students lifting their hands and singing as loudly as they can, 'Sing like never before, oh my soul. I'll worship Your holy name,' those are my favorite moments," Sweeney said.
According to Osterhus, Sweeney wants nothing more than to help people know and worship Christ. He believes that there is something about the way she leads worship that brings others closer to God.
"She has a great voice and a winsome spirit, but she draws you toward loving God and loving to worship him as much as she does," Osterhus said.
While Sweeney may be unsure of what her future holds after graduation, she knows that she is being led to full-time ministry.
"Looking back on these last few years and reflecting on all that God has done, it just leaves me in awe," Sweeney said. "God's timing is always perfect, and nothing we go through is ever purposeless or wasted."
For other people who have been discouraged by ministry team auditions, Sweeney recommends to stay in prayer, lean on God and remember Ephesians 3:20-21: "Now to him who is able to do immeasurably more than all we ask or imagine, according to his power that is at work within us, to him be glory in the church and in Christ Jesus throughout all generations, for ever and ever! Amen."