Professor shows passion for psychology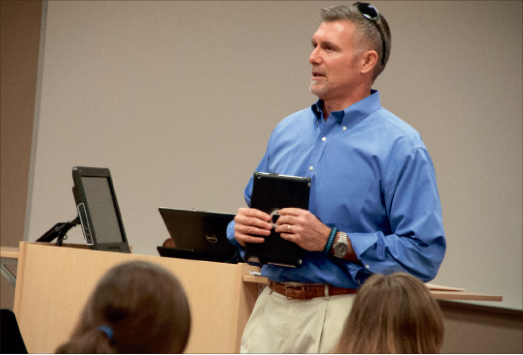 Former police officer Timothy Barclay's law enforcement background sparks his interest in a new career
Lights flashed as another speeding car slowed to a stop, a look of defeat crossing the frustrated driver's face as a police officer strode to the window. It used to be all in a day's work for Timothy Barclay, who served 10 years on patrol with the New Castle, Pa. police department before choosing to become a Liberty University assistant professor of psychology.
"It was through my job as a cop when I really started getting interested in psychology," Barclay said.
According to Barclay, his experience with law enforcement was very useful for his position in the field of psychology.
"As a police officer, I learned how to look through people's denial, lying and inconsistencies," Barclay said.
Realizing his newfound interest in psychology, Barclay began his search for colleges in order to pursue a degree in that field. After being led to Liberty, Barclay quickly enrolled in a correspondence course. According to him, Liberty had not yet begun offering online classes, but the course allowed him to remain dedicated to his career in law enforcement.
"I was looking out over the Vines Center and DeMoss, and God spoke to my heart and said, 'You can be a psychologist one day, and you can come back here to teach,'" Barclay said. "That is when my passion really started."
As a police officer, husband and father of three children, Barclay graduated Liberty with a master's degree in counseling before pursuing his doctorate at Walden University. Then, when he was dropping his daughter off at Liberty for her freshman year, he was offered a job on the school's community service board.
"He has talked about how his experience with the force made him want to be on the preventative side of things," Kristen Sharrett, a coworker of Barclay's, said. "I think, if anything, it's made him more passionate because he's seen how it can end up."
Fifteen years after his initial visit to Liberty, equipped with the proper college training, Barclay moved to Lynchburg to be closer to his new job. Barclay gained valuable training during his time at college that later allowed him to transition into his career as an assistant psychology professor at Liberty.
"Giving people the skills they need to live a better quality of life or helping them work through their symptoms, whether it is depression, anxiety, or just being lost in general, is very fulfilling and meaningful to me," Barclay said.
After 20 years of dedicated service in law enforcement, Barclay transferred his passion to a future career with Liberty. According to Barclay, working in law enforcement, and later the counseling profession, brought him into contact with individuals whom he had previously arrested.
"It really worked out well because I had forged such a relationship with people," Barclay said. "They knew that I was a cop, but they knew that I really wanted to help them."
Barclay traded traffic stops for teaching, but according to him, he is content with the direction that he chose.