Jazzy Fun Friday rocks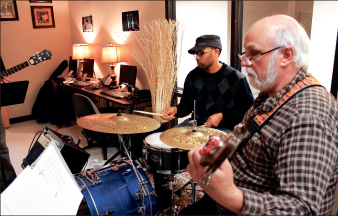 Center4ME celebrates African-American culture
The sound of jazz music echoed throughout the hallways of Green Hall Feb. 22, welcoming Liberty University students to celebrate African American History Month by participating in the Center for Multicultural Enrichment's (Center4ME) Jazzy Fun Friday.
Liberty students, faculty, staff and College for a Weekend guests celebrated the African American legacy with live jazz music, games and food.
Joy Jefferson, the associate director for cultural competency and assessment, said that the purpose of the event was to celebrate the African American heritage.
"Since (the) early 1900s, jazz music has been a part of African American culture," Jefferson said. "As a result, the Center4ME personnel have decided to provide an event that focuses on jazz music."
"One of our goals for this event is to educate our guest about African American culture," Jefferson said.
Students enjoyed the event and the purpose that was behind creating it. TeNeka Nibblett, a senior at Liberty, said that she highly appreciated the experience.
"I think for them to put on an event like this is awesome," Nibblett said. "It gives students, like myself, an opportunity to celebrate such an amazing and respectful holiday."
According to Nibblett, the meaning behind the music resonated with her.
"I admire Center4ME for hosting an event that is teaching us about the important culture, and I hope students take it to heart," Nibblett said. "I hope they learn something through all the music and games."
One more event at the end of the month of February concludes the Center4ME's celebration of African American History Month.
The Center4Me will also host the event Center4Faces of America. The screening will be held Tuesday, Feb. 26 in Green Hall 1878. Guests who attend will learn about the heritage of many families throughout history.