EchoLight donation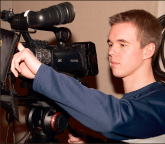 EchoLight Studios recently formed an agreement to co-produce five feature films with Liberty University's Cinematic Arts Zaki Gordon Center to make a mark on Christian filmmakers and university film schools.
According to a press release from EchoLight Studios, the company had announced its multi-million dollar commitment to support the next generation of Christian filmmakers earlier this year.
The latest announcement from EchoLight pledges up to $1 million to produce and distribute a new film from the best film winner in this year's 168 Film Project, "a faith-based incubator for artists focused on the media," according to the company's website.
This action follows similar commitments that EchoLight has made, including a $250,000 donation to the San Antonio Independent Christian Film Festival and a multi-million dollar deal over five years with Liberty's Cinematic Arts program, according to the press release.
The Cinematic Arts Zaki Gordon Center opened its doors to aspiring filmmakers in 2012.
"Over a five-year span, the program's goal is to produce and distribute at least five movies," Executive Director Stephan Schultze said. "These movies will incorporate Liberty' Cinematic Arts students, staff and state-of-the-art facilities with EchoLight Studios' development and distribution professionals to provide a seamless process for concept to distribution on these movies."
According to Schultze, every course taken in Cinematic Arts will lead students toward the completion of a feature film.
"There should be no compromise in educating filmmakers that does not include immersing students in a real world model," Schultze said.
According to EchoLight President Bobby Downes, who spoke at the film school's dedication last September, EchoLight's multi-million dollar commitment to Christian filmmakers is designed to encourage them to continue to excel.
"These awards build on EchoLight's commitment to not only distribute quality faith and family films, but also to encourage excellence among the coming generation of filmmakers," Downes said in the release.
In addition to the awards supporting new creators, EchoLight distributes the works of established filmmakers in the faith and family genre and produces original works, according to the press release.