Career Center offers connections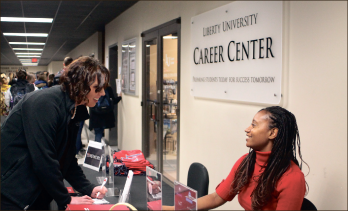 LUNETWORK provides a link to the professional world for Liberty students in search of jobs and internships
Liberty University's Career Center, a guidance resource for students seeking an internship or job, now points undergraduates in the direction of LUNETWORK, an online tool that helps connect them to possible employers.
Matt Meservy, an LUNETWORK coordinator, said that students wishing to begin the internship or job searching process should register at LUNETWORK because it creates connections between students and employers based everywhere from Lynchburg to other countries.
Meservy believes that students need to be more aware of how important networking is to their future, whether it is for an internship or for a job.
"Here at the Career Center, we pride ourselves in making connections with people of influence at some of the most prestigious companies in America," Meservy said. "These companies then go and post positions on LUNETWORK specifically for the Liberty community. So if the student isn't on LUNETWORK, they are missing out on some great opportunities."
Although some students might be focused on internships as requirements for graduation, internships can also be steppingstones to securing a job.
Bruce Kirk, Liberty communications professor and coordinator of internships for the Communications Department and the Studio and Digital Arts Department, stressed just how important it is for students to acquire an internship as close to graduation as possible.
Kirk said that when his past job descriptions included hiring new employees, there was nothing more frustrating than an intern turning down a job offer to finish more schooling. However, Kirk also said that this should not shut all doors to a future job.
"If you've impressed an employer, hopefully they don't lose interest in you just because a few months pass, but you're going to have to do more work to … refresh their memory," Kirk said. "It's fresh — you're there, you've made the contact, you've impressed them and they want to bring you on board, and so what better time than to hire you right now?"
Finding a job or an internship might appear daunting to some, but Meservy said that those connected to LUNETWORK find jobs on a daily basis. He believes that social networking through systems such as LUNETWORK is becoming the main way that employers recruit.
"Ten years ago, this would have seemed outlandish, but in today's technological environment, your online presence is just as important as your physical presence," Meservy said.
After hearing about LUNETWORK from the Career Center, senior Sarah Mitchell conducted online research before registering and creating a profile.
"I thought it would be beneficial to see what types of internships were in my area of interest," Mitchell said. "It was really cool to see how they could compile so many different jobs and internship options in one place for students."
Mitchell, a psychology major, plans to graduate this semester and is looking to the future.
"I think it's really good that Liberty offers the LUNETWORK," Mitchell said. "As a student, it's great to know that the university supports students getting jobs."
According to the LUNETWORK website, students are not the only ones who benefit from the program. Alumni can also create a profile and upload a résumé in hopes of attracting potential employers who have posted open positions, employer overviews and corporate culture information.
Meservy said that he has seen the steady rise in unemployment, but believes that through LUNETWORK, students can secure jobs.
"We … have success stories nearly every day from students who have done their homework, utilized us in the Career Center, and scoured LUNETWORK to find jobs," Meservy said. "So really it comes down to how much you want to succeed in life after college."
For students such as Mitchell, this means not taking for granted the opportunities that the Career Center offers to any student willing to go the extra mile.