Capitol internship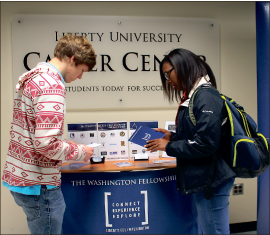 In order to "train champions for Christ," Liberty University offers many outlets for students to succeed in their desired field. The Washington Fellowship is an internship program offered as a means of placing them in a city filled with future job prospects while also earning credit toward graduation.
According to Program Recruiter Frank DiGregorio, this is not something that students have to do, but something that they get the opportunity to do.
"Nowadays, you need every edge on the competition, and employers are looking to hire within," DiGregorio said. "They're looking to hire people that they know, friends that they have who know people. They are networking to find employees."
The Washington Fellowship has placed students from all different majors into internship positions, and some have been promoted to full-time positions. Interns have been positioned at Fox News, National Geographic, The Heritage Foundation, Concerned Women for America, The American Psychological Association, the National Archives and other high-profile companies and organizations.
"The advantage you have with us is that we have a placement coordinator who is constantly talking to people in D.C., organizations that we are reaching out to in order to find these opportunities," DiGregorio said.
In the last four or five semesters, between 35 and 50 percent of the students interning in D.C. have been offered jobs after graduation, according to DiGregorio.
Vanessa Romas, a senior politics and policy major, interned in the spring of 2012 with Congressman Robert Hurt (Va). As an intern, she answered phones, addressed constituent's questions about bills and gave Capitol tours.
"It was a lot of fun giving tours, because you get to meet people from the district your congressman represents," Romas said. "Lynchburg was a part of Congressman Hurt's district during my time in his office, so I met a lot of people affiliated with Liberty."
According to Romas, the internship was not only a great networking tool, but also a great way for her to share her faith with others.
After her stint in D.C., Romas said that she loved the program so much that she became a student recruiter for the Washington Fellowship, going to classrooms and sharing her experiences with other students.
"One of the best aspects of the Washington Fellowship program is knowing that while you are completing your internship, there are 20 other people there from your school who know exactly what you are going through," Romas said.
Student Body Vice President Joshua Warner also interned in Washington, D.C. this past summer for Congresswoman Cathy McMorris Rodgers.
"Having a hands-on experience (in) the area I want to go into, and having a better understanding of the legislation process, helped me to narrow down what I want to do after college," Warner said.
For information regarding the application process and acceptance into the program, visit the Washington Fellowship Program page on the Liberty website, or stop by the Career Center to set up an appointment with a career counselor.