'Burg population grows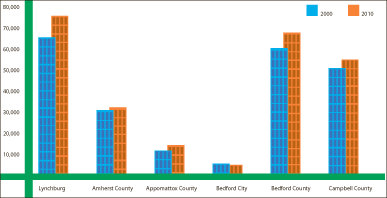 Numbers continue to increase in and around Hill City
In a recent report from the Weldon Cooper Center in Charlottesville, N.C., the City of Lynchburg and the surrounding counties saw their populations increase by a combination of about 3,180 residents since the 2010 Census.
The report estimated that the City of Lynchburg had the biggest change in numbers — 1,635 additional residents —pushing Hill City to more than 77,000 residents.
The increase of a community's population can be contributed to a number of factors, including cost of living, job opportunities and entertainment. In Lynchburg's case, multiple colleges in the area attract people to the region, according to City Manager Kimball Payne.
Liberty University, Lynchburg College, Randolph College, Virginia University of Lynchburg and Central Virginia Community College are all within the city limits. Sweet Briar College is also located in nearby Amherst County.
While the multitude of colleges attract a younger generation to the city, college students are not the only people settling down in the Lynchburg area, according to Payne.
Even so, Payne believes the growth of Liberty is a major cause of the expansion in the city because of the students and staff coming in.
"There is a large support staff at Liberty who are all living in the city with their families, and we also have a great medical network here that draws a lot of retirees in," Payne said. "As the city grows, more people want to relocate here."
With the continuing development of Liberty, people like Payne want students to graduate with their degree and fill vacant job positions in the Lynchburg area.
"We hope that students will want to raise a family here after graduation," Payne said.
Junior Solianna Berrios transferred to Liberty last year because she wanted to be part of the worship program, but she also mentioned other factors involved in her decision to come to Lynchburg.
"Liberty University is what brought me to Lynchburg, but Lynchburg's local culture has truly improved my college experience," Berrios said. "Campus offers all the academic and spiritual growth I need, while the town offers museums, festivals and local restaurants with history and character. It's an ideal place for a college student to live."
According to Payne, the growth in population has also led to an increase in projects around the city. A branch of the popular clothing store Francesca's recently opened in downtown Lynchburg. There are also plans in place for an Ann Taylor, Fresh Market and second Panera in Lynchburg.
Payne said that the construction of these new businesses around the city also brings in new apartments and living spaces for people.
According to the City of Lynchburg website, the population increased from approximately 65,000 to more than 75,000 people from 2000 to 2010.
Based on this recent report and the consistent growth of the area's college community, it seems like the opportunity is there for Lynchburg to sustain this growth for years to come.