Blush Network leads conference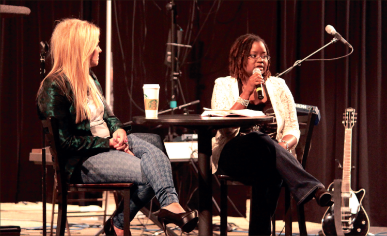 Lynchburg and Liberty women learned what it means to be appointed by God during the weekend event
Hundreds of women gathered in the Towns Auditorium Feb. 9 to attend a day of worship and fellowship with the Blush Network. As an official partner with Liberty University's women's ministry, Blush spiritually challenges the way young women think, according to the ministry's website.
The conference began at 9 a.m. with Janette…ikz, an artist who spreads God's word through music, poetry and dance. She greeted the women by performing a poem entitled "I will wait for you."
"When God started showing me my ability and when the Holy Spirit started to do this work in me, I was like, 'No, I want people to know what I went through," Janette…ikz said. "But how could I do that in a creative way? The times we live in, people want to be entertained. I'm just using that as a gateway to talk about my savior."
Many of the speakers at this year's conference used their personal trials to shed light on issues that today's women struggle to overcome. According to Autumn Miles, the founder of Blush, break-in sessions were added this year instead of the typical break-out sessions of past Liberty conferences. This change allowed women to hear each speaker's message instead of being required to choose certain sessions to attend.
Miles spoke to the women several times, highlighting what it meant to be appointed by God and gain His vision in their lives as well as what is required to face challenges such as eating disorders, suicide or abuse.
"You have to push through trials to assume God's reality," Miles said. "Bonds broken, captives free, what would that look like?"
Liberty junior Chelsea DeWolf spoke to the women about an eating disorder she struggled with and how she overcame the negative view she had of herself.
"I started asking God how He viewed me," DeWolf said. "I asked God for the beauty he saw in me, and that's when my life changed. God did not mess up when he made me and you."
During the conference, women confessed to dealing with the same hardships in their own lives, raising their hands when Miles asked for their feedback.
"It's really cool to see other people dealing with the same things or the same mindsets," Liberty sophomore Lauren Edds said. "How God helped them through that struggle is really encouraging."
Directly before the concert, a meet and greet session was offered to introduce the women to the talent featured throughout the Blush conference.
"My favorite thing is the interaction afterwards, just talking to people and finding out, 'Wow, this specific thing really spoke to me,'" Janette…ikz said.
Other speakers for the conference included Lakreisha Chennis, Monica Rose Brennan, Erika Fuller, Kate Long and Tiffany Redman. The conference ended with a concert at 7:30 p.m., also in the Towns Auditorium. Hosted by Rachel Jackson and Dave Barnes, both men and women were invited to attend the concert.
"A lot of the points touched aspects of my life," Edds said. "I'm not alone."
This three-year-old ministry started by Miles grew quickly to a worldwide outreach. According to Miles, although founded in Texas, Liberty is Blush's second home.