A celebration of heritage kicks off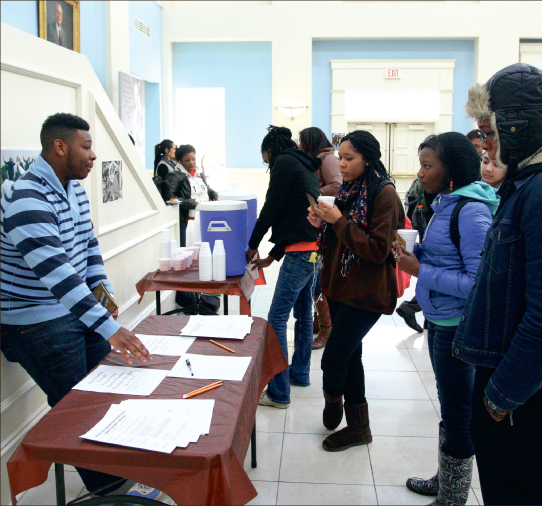 The Center4ME is recognizing African American History Month on campus
In the United States, the month of February has been dedicated to celebrating the heritage of the African American people in our country.
The Center for Multicultural Enrichment (Center4ME), a department of Liberty University's Student Affairs, gives students the opportunity to celebrate African American heritage by providing academic lectures, documentaries and entertainment — all of which take place throughout the month.
According to the Center4ME webpage, the office exists to promote an understanding of the Western tradition and the diverse elements of American cultural history while contributing to the knowledge and understanding of other cultures and of international events.
"Center4ME is here to celebrate various cultures and to give students the opportunity to learn about those different cultures," Associate Director for Cultural Competency Joy Jefferson said. "A lot of students think Center4ME is for African American or Latino students, but it's for everyone to build relationships."
The African American History Month kickoff in the Grand Lobby of DeMoss Hall Friday, Feb. 1 celebrated one of those cultures.
At the event, students were served food and refreshments as they were given the opportunity to examine several pictures of prominent people of African American heritage.
Bridging the Gap, an urban ministry step team, also performed at the kickoff as students picked up calendars promoting the upcoming events for the month.
To continue celebrating African American History Month, a number of events are scheduled to take place on campus.
A deliberative dialogue with Ron Miller, a Liberty professor and the author of "Sellout," will take place Tuesday, Feb. 5 at 7 p.m. in DeMoss Hall 1090.
Other events include another performance by Bridging the Gap Friday, Feb. 8 at 11:30 a.m. in Green Hall 1878, and a jazz band performance accompanied by food and games in Green Hall 1878 Friday, Feb. 22 at 11:30 a.m.
Faces of America, a documentary covering 11 Americans from various ethnic backgrounds, will be screened in Green Hall 1878 Tuesday, Feb. 26 at 7 p.m. Finally, the festivities will be wrapped up with a presentation on the history of African American music Saturday, March 2 at 7 p.m. in the Towns Alumni Auditorium.
In addition to African American History Month, the Center4ME celebrates various heritages throughout the year.
"We celebrate Irish American heritage in March and Asian American and Pacific Islander heritage in April," Jefferson said. "We also celebrate Hispanic heritage in September and October and American Indian Month in November."
For more information on upcoming events for African American History Month as well as future events, visit the Center4ME webpage at liberty.edu/center4me.