T-Room opens second location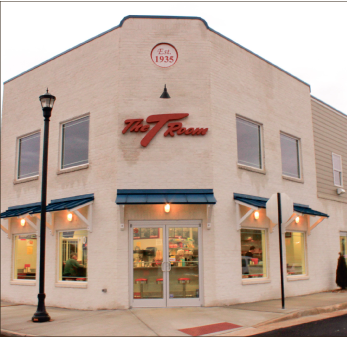 Everything is bigger in Texas, but this restaurant franchise has made a name for itself by keeping things small
The sound of burgers sizzling on the grill and eggs frying in pans have been heard more clearly at the Cornerstone Apartments on Greenview Drive near Timberlake Road ever since a new Texas Inn opened Dec. 19, 2012.
Eddie Eagle, owner of the Texas Inn, said that the expansion was largely based off the desire to reach more people in the Timberlake and Forest area as well as Liberty University students.
Commonly known as the T-Room because of the smaller eating space — the original version only features a handful of stools — the new building has made changes from the downtown building, such as more seating, new equipment and the addition of fries to the menu.
Eagle said that the Cornerstone location has greatly benefited the customers and that there has been an increase in Liberty students coming in to eat. The additional location has also given loyal customers the chance to experience a newer version of the classic restaurant, according to Eagle.
"I hope that we can keep the same service and develop new relationships with new customers out here like we've done down there for years," Eagle said.
Known for its Cheesy Western burger, the T-Room regularly attracts Liberty students. Janae Stracke, a junior at Liberty, crossed this item off her list after experiencing the T-Room and the famous Cheesy Western.
Stracke said that going to the T-Room is a must for all Liberty students and that the old-time feel of the diner reminds her of an old '50s café — creating a fun environment for all ages.
"I think a Liberty student needs to cross this off their bucket list because it has made a name for itself," Stracke said. "What it's known for is its Cheesy Western, which is a very unique burger topped with egg. Some people think that sounds weird, but I actually thought it was really good."
Time will tell whether the expansion to Cornerstone will be profitable for Eagle and the rest of the Texas Inn team, but for now, the Cheesy Western lives on.