Quiz Bowl dominates Big South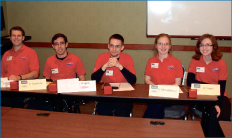 Liberty University's Quiz Bowl team triumphed over Gardner-Webb Saturday, Jan. 26, 170 to 100, capturing Liberty's seventh Big South Conference victory in eight years.
The victory over Gardner-Webb has provided the team with a perfect 6-0 record, according to Coach James Nutter.
"I've always enjoyed playing Gardner-Webb's team. We managed to defeat them for the fourth Big South in a row, but they always put up a great fight and give us a run for our money," Jake Rogers said.
The team has earned its victories but is far from done. Liberty will move on to the National Academic Quiz Tournaments' (NAQT) sectional competition held at the University of Tennessee Feb. 8, according to Nutter.
Nutter believes that Liberty's record is exemplary thus far. The NAQT sectionals have also been a fruitful proving ground for the team.
"Last year, we finished third in that three-state-wide tournament and beat UNC-Chapel Hill, which eventually finished first in our region," Nutter said.
Key players in this weekend's victory were leading scorers Jon Bateman and Doug Stephens, according to Nutter.
The team consists of five students who are responsible for their own specialized area of study.
Rogers specializes in math, computer science and mythology. Stephens specializes in literature and philosophy. Kaitlyn Shondelmyer specializes in science and mythology.
Bateman studies history and pop culture, and Greta Hanks specializes in music, art and geography, according to former varsity member and current team moderator Sabrina Hardy.
"Since we're all geeks of the highest order, we race to the buzzers on nerdier pop culture questions, and rare is the day where we ever get a sports question right," Rogers said.
Players are encouraged to have a well-rounded set of general knowledge at their disposal, rather than just their specialization, according to Hardy.
"You can't focus too intently on your specialization. If you do, you're not a good team player," Hardy said.
Team members undergo about four hours of training every week, with scrimmages at every practice, according to Nutter.
"Like debate, Liberty's Quiz Bowl teams demonstrate that they can compete academically with most any college in America. We have beaten teams from the Big South, the ACC and the Big Ten," Nutter said. "More importantly, it shows that Christians are critical thinkers with sharp minds who are very knowledgeable in their respective fields of study."